On the face of it, the government is still to take a decision on whether it will want to issue a ?golden share? in enterprises to retain majority control. In practice, it has already done so.
The company is a little known IT sector enterprise under the department of information technology, CSC e-Governance Services India Limited. The company has been around since 2009, providing basic support to the government?s ambitious e-governance plans. The central government retains its control over the company through the golden share mechanism.
All this has happened when there is an intense debate in the economy on whether the government can retain its majority shareholding in public sector enterprises through mechanisms like the golden share, or the issue of equity with superior voting rights, like the differential voting right shares. Retaining control otherwise means larger and larger investment of scarce government funds in the equity of these companies including banks and insurance companies as they expands operations.
The memorandum of association of this puny company (its authorised capital is R50 crore) clearly says the shareholding in CSC e-Governance Services India Limited is divided between the private sector and the state governments in the ratio of 44.5% each. The remaining 11% is subscribed to by financial institutions.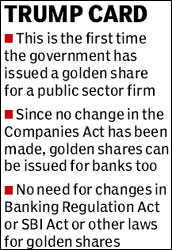 Just one share is held by the central government to maintain its hold over the corporation, in the form of a golden share. The share entitles the government to attend the meeting of the board of directors of the company and also exercise the right to vote on any matter that seeks to alter its ?interests?.
As of now, the status of the share is beyond the provisions of the Companies Act, 1956. The Act does not have any such provision, distinguishing only between preference and ordinary shares.
But the issuance of the golden share for the company shows there is no need for the government to make any change in the laws to extend it to other companies.
When contacted, V Sivasubramanian, additional CEO of the company, declined to comment on the issue of the golden share. On the company?s plans, he said the major challenge will be to complete the targeted 1 lakh community service centres in the current financial year.
At each of these centres, local people can obtain a variety of computer-based services, ranging from railway tickets and insurance premium to government certificates like land records and birth and death certificates. ?The company would be in the right position to further play a key role in further expanding the network by another 1,50,000 to cover each panchayat in the country,? he said.