Gold prices fell at the domestic bullion market after its five-day upbeat momentum following sustained profit-selling from stockists and investors amid subdued local demand at the existing higher levels.
Silver also declined due to speculative selling.
Standard gold of 99.5 per cent purity dropped by Rs 240 to close at Rs 30,225 per 10 gm from last Saturday's closing level of Rs 30,465.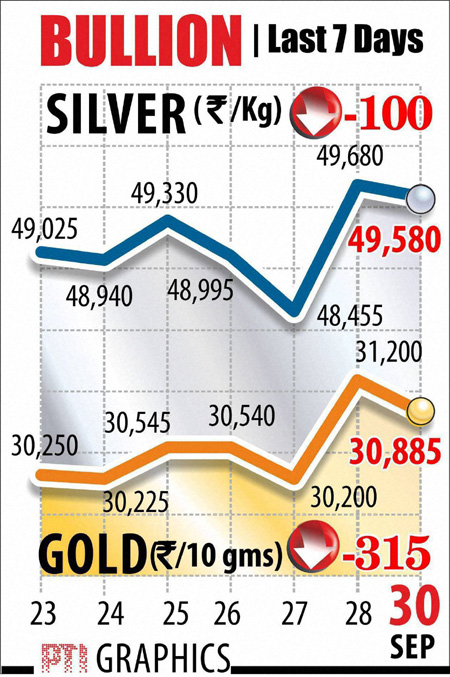 Pure gold of 99.9 per cent purity slipped by Rs 235 to finish at Rs 30,375 per 10 gm from Rs 30,610.
Silver ready (.999 fineness) dipped Rs 440 to end at Rs 50,290 per kg as against Rs 50,730 last weekend.
At overseas, gold was slightly higher in narrow trade following investors cautiousness to the possibility of a US government shutdown after the Republican-controlled House of Representatives passed a measure that ties government funding to a one-year delay of President Barack Obama's landmark healthcare restructuring law, proved supportive to gold.
In London, spot gold was slightly firmer at USD 1,335.99 an ounce in early trade, while silver was trading steady.