Notwithstanding a slowdown in the economy, Indian FMCG majors are continuing with their global shopping spree. Cash-rich FMCG majors Marico Ltd and Godrej Consumer Products Ltd (GCPL) are in the race to buy British skincare brand Simple, one of the largest beauty product brands in the UK, industry sources privy to the development said.
Simple was recently put on the block by its promoter Duke Street Capital, a private equity group in the UK. The brand value of Simple is around $250 million. Simple Pure soaps are quite popular in global markets.
According to sources, theres also a new twist to the plans to acquire Simple . Even as Godrej Consumer Products and Marico are bidding for the brand, yet another Indian FMCG major, Wipro Consumer Care & Lighting, has also joined the race recently. The company, a unit of Wipro Ltd, had acquired British brand Yardley earlier this month, but is yet to whet its appetite for global brands.
Increasingly, leading FMCG companies are in the race to acquire personal care brands in the UK. The logic is simple. In India, there are too many buyers but very few sellers, said an Mumbai-based analyst. When contacted by FE, GCPL declined to comment on the companys global acquisition plans.
Two years ago, Godrej Consumer Products acquired Keyline Brands Ltd in the UK. Since then, it has been looking for acquisitions to expand its product portfolio in the UK, analysts said.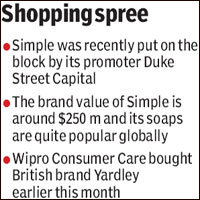 Vineet Agarwal, CEO of Wipro Consumer Care, also declined to comment. If it fits into our strategy, we will look at acquisitions both in domestic and overseas markets, he said. Wipro is planning to introduce its new acquisition Yardley personal care products in January 2010 in India. Despite slowdown, FMCG companies are putting M&A plans on fast lane. For instance, after acquiring Femcare, a leading personal care brand in India, Dabur India is scouting for acquisitions in Africa and West Asia. Like Dabur, Emami Ltd is also looking at acquisitions in domestic as well overseas markets, in order to expand its product portfolio. Collectively, Dabur, Marico and Emami have 32-34% market share in Indias FMCG segment.