With the US markets ending in the red on Friday and the Asian markets continuing to post losses on Monday, the 30-share Sensex of the Bombay Stock Exchange (BSE) hit a near five-week low to close at 16,780 points, losing just under 0.5%. The broader S&P CNX Nifty lost a little more to close the day at 5,007.90 points.
While some amount of short-covering pulled up the indices from their intra-day lows, foreign institutional investors (FIIs) were sellers for the fifth consecutive session selling stocks worth Rs 1,000 crore, according to provisional figures from the BSE. Disappointing earnings posted by Mahindra & Mahindra hurt the sentiment and its stock lost 5.2% to close at Rs 1,072.35.
Both the Japanese Nikkei and the Chinese Shanghai SE Composite ended the day at monthly lows on rising concerns that US Banks may not be allowed to invest in hedge funds and that the Bank of China plans to raise $ 5.8 billion to shore up its capital base. On Friday the S&P 500 Index had lost 24.72 points, or 2.21%.
Indian investors are understandably cautious ahead of expiry of January derivatives contracts on Thursday and the credit policy scheduled for January 29. In the last week alone, FIIs have sold Nifty futures worth Rs 7,500 crore. FIIs, say market watchers, have short positions which they may choose to roll over. Should there be some short covering, the market will find good support at lower levels," said Siddarth Bhamre, derivatives head at Angel Broking.
The breadth of the market remained negative as out of 2,913 stocks traded on the BSE, 1,105 stocks advanced, 1,747 declined while 61 remained unchanged. The NSE's derivatives segment reported a turnover of over Rs 92,200 crore down 30% compared to the previous session, while the average daily turnover in the last six months stood at approximately 72,000 crore. The turnover in the cash segment on the NSE was approximately at Rs 13,300 crore down by 35% over Friday's volumes. The average turnover in the cash segment of NSE in the last six months has been around Rs 17,000 crore. Apart from the FMCG and Capital Goods (CG) indices, all the other BSE sector indices ended the day in n negative terrain with the automobile and realty sectors being among the worst performers.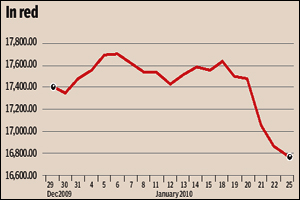 In the last one month, between December 24, 2009 and January 25, Shanghai Se Composite IX has lost approximately 59 points or 1.87% while Hang Sang has lost over 2.80% or 83.84 points. The Korean Kospi and Japanese Nikkei were both down by 0.72% or 12.14 points and 0.23% or 24.23 points in the same period. According to the provisional figures provided by the BSE, domestic institutional investors (DII) were net buyers at approximately Rs 700 crore on Monday.