General Motors iconic budget friendly sports car Camaro is set for an India entry. President of General Motors international operations Tim Lee told FE that the company is going to introduce a right-hand drive for the two-door car which could then make its way into the second fastest growing auto market in the world.
The Chevrolet Camaro was first displayed in India at the Auto Expo last year, but at that time the company had ruled out any immediate plans of introducing the swanky car in India. Though Lee did not reveal the tentative time period or price of the car, it is expected to fetch a price in the range of Rs 30 lakh plus. This would make the car most expensive offering from GM in India, however this ranks as the cheapest sports car in the world.
As we go through the development phase of the new generation Camaro we will try and do a right hand drive. But we will not assemble it here, he said. In the US the Camaro base price starts at around $20,000 and goes up to $40,000 (or Rs 18 lakh). Since the company would attract an import duty of 110% since it is a completely built unit (CBU), the price of the car would double. Lee said that with the introduction of the car, GM would use its entry as a brand builder. We will not sell a lot of Camaros in India but it will be a brand builder for the company bringing many people to our showrooms, said Lee. Looking back at the 14-year old history of the company in India, Lee said that its performance had been spotty and incosistent. He said that going forward the company's focus in India would be to design the best cars and to have a business model which is sustainable and profitable. "We want to profitable so that we can employ more people in India," he added. Chalking out GM's India plans, Lee said the company is going to look at every segment in the country to increase its sales including a car priced below the Spark. In fact the company's president and managing director Karl Slym later told FE that the company is mulling introducing an 800 cc powered Spark. This would make it the cheapest offering from GM in its 14-year operations in India so far.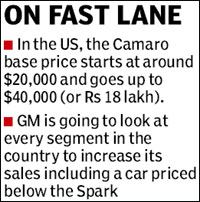 "The 800cc Spark is already available in Europe. And we could introduce the car in India," said Slym. The 800cc Spark was introduced in China, however was later discontinued. "We need to see whether everything is right before we introduce the car," he said. Last week GM India held a board meeting which was chaired by Lee where a ten-year growth plan was unveiled.