The first slice of the estimated $200-250 billion business that India can offer to overseas suppliers of nuclear plants and services over the next two decades would go to four firms, including the worlds largest power company, the General Electric and Pennsylvania-based Westinghouse Electric. Armed with the law that ensures civil liability for nuclear damageswhich is also acceptable to the Japanese and US governmentsNew Delhi has identified these firms and Paris-based Areva and Russias Rosatom as the first four to set up nuclear reactors in the country.
The two reactors that GE and Westinghouse will build will have a combined cost of roughly $10 billion, official sources told FE. Areva and Rosatom are already present in Indian nuclear energy market, while GE and Westinghouse are making the foray. Westinghouse, which is majority-owned by Japans Toshiba Corporation, has the worlds largest installed base of operating nuclear plants.
According to the sources, agreements with GE and Westinghouse are in the process of being firmed up ahead of the expected India visit of the US president Barack Obama in November. Obamas visit will be followed by a visit by French president Nicolas Sarkozy and, later, Russian President Dmitry Medvedev in December.
While the two US firms were keen to be suppliers for Indias nuclear reactor market, it was the liability issue that hindered their plans, putting them at a competitive disadvantage over Russian and French firms whose accident liability is underwritten by their governments. Areva and Rosatom are covered by sovereign immunity because they are fully or partially controlled by their respective governments.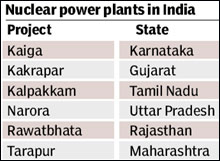 Now that the bill has become law, the US companies can start work on building reactors at least at two sites identified for them.
However, negotiations between India and Japan on the civil nuclear deal are going slow, despite efforts to reach some conclusions ahead of Prime Minister Manmohan Singhs Tokyo visit in October.
The India-Japan nuclear deal has a lot riding on it. Besides the strong strategic statement, the deal will give top Japanese nuclear companies like Hitachi, Mitsubishi, Toshiba and Marubeni a foothold in the Indian nuclear energy sector. At least three of them have tied up with GE, Areva and Westinghouse respectively, all of whom have been allotted nuclear parks in India.
However, sources clarified that even if the India-Japan agreement gets delayed, it will not have any effect on these joint ventures accessing Japanese technology for Indias reactors.
India is expected to reiterate its commitment to a moratorium on nuclear testing, as has been done with the Nuclear Suppliers Group (NSG) when the two leaders meet in October.
This commitment has seen India through the US nuclear deal as well as bilateral nuclear agreements with at least seven countries. For international players in nuclear business, the market is wide open with India planning to increase nuclear power generation from the present 4120 MWe to 60,000 MWe by 2030 which would need about 50 to 60 new nuclear power plants each costing $4-5 billion. Thus, the potential size of Indian nuclear market is $200-250 billion. This includes cost of fuel, reprocessing, waste disposal and decommissioning of the reactor. All this requires Indias active participation in international markets and compliance with international rules and regulations. So far, India had civil atomic energy pacts with eight countries, led by the US, which had kicked off the process to resume the global engagement with India in nuclear commerce. Others are France, Russia, Mongolia, Kazakhstan, Argentina, Namibia and Britain.
According to Department of Atomic Energy data, India currently has 17 nuclear reactors at six locations, all operated by the state-run Nuclear Power Corporation, with capacity to produce 4,560 MW of electricity.