Indian economy has bounced back to record a growth rate of 5.7 per cent for the April-June quarter. Reuters
Bringing some much needed cheer, the economy grew by 5.7 per cent in the first quarter of the fiscal, marking the fastest growth since March 2012, according to data released by the CSO on Friday evening.
The uptick in industrial output as well as reasonable growth in the farm sector have given a boost to growth, said an official familiar with the development, adding that the low base effect has also given an impetus to GDP growth.
The economy grew at 4.6 per cent in the fourth quarter of last fiscal while it registered a growth rate of 4.4 per cent in the first quarter of last fiscal. The Central Statistics Office will release data on GDP growth rate for the first quarter of the fiscal on August 29.
Economic growth has been largely subdued marked by sub-5 per cent growth for the last two fiscals with the highest GDP growth registered in the July to September quarter of 2013-14 at 5.2 per cent.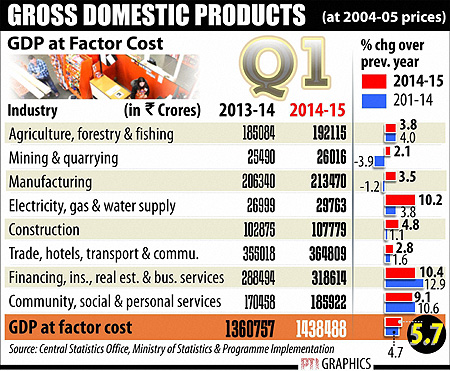 Stuttering manufacturing growth that declined by 0.7 per cent in 2013-14 was largely responsible for the low GDP growth. But it has turned more upbeat and the index of industrial production expanded by 3.4 per cent in June and 5 per cent in May this year, remaining in the positive territory for three consecutive months.
In July, manufacturing activity grew at its quickest pace in 17 months as order books swelled, marking the ninth consecutive month of expansion according to the HSBC Purchasing Managers' Index (PMI) survey, compiled by Markit. And factory production grew for the third straight month in June.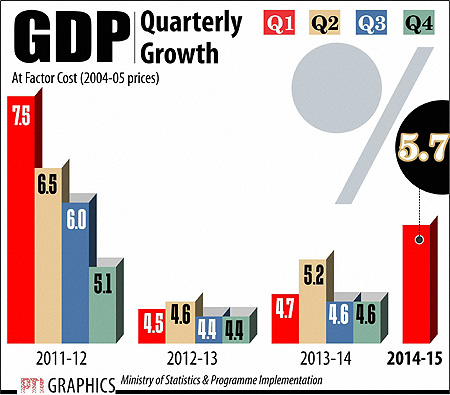 The optimism in the economy has also been reflected in recent government statements. Finance secretary Arvind Mayaram pegged GDP growth at 5.8 per cent in the current fiscal, a tad higher than the estimate of 5.5 per cent by the Reserve Bank of India.