Future Agrovet Ltd, part of the Future Group, is closing down around 60 non-profitable stores out of a total of 160 KBs Fair Price shops. Narendra Baheti, managing director, Future Agrovet, told FE, Our losses from the KB Fair Price shops are around Rs 75 crore. This is because KBs Fair Price Shops could not sustain competition from local kirana stores. Baheti added that the turnover from this segment in 2008-09 was Rs 75 crore against a target of Rs 150 crore.
In the process of rationalising the business, the chain will now have a presence in only three cities compared with five earlier. In other words, KBs Fair Price Shops which were spread across Mumbai, Delhi, Bangalore, Hyderbad and Ahmedabad, will now be present only in Mumbai, Delhi and Bangalore.
Damodar Mall, group customer director, Future Group, said that while some stores were being closed down, others were also being rolled out. "Some of them are in the same catchment area. Only, they are located in more suitable properties, he said. Mall added that the company was looking to set up around 1,000 stores of 1000 sq ft each over the next few years.
Baheti observed that store-sales at the remaining 98 KBs Fair Price Shops has increased by 40%.
Meanwhile, Future Agrovet has also increased its stock keeping units (SKUs) from 300 to 350 at the existing KBs Fair Price shops. Seeing the improved consumer sentiment, Future Agrovet is planning to increase the number of KBs Fair Price Shops to 140 by March 2010. For the purpose, we are planning to invest Rs 130 crore which would include capital expenditure to the tune of Rs 350 per sq ft. Further, the company is also planning to expand Food Bazaar stores from 145 to 300 stores by 2014.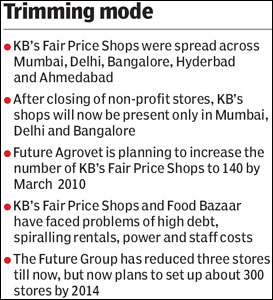 It was during the fourth quarter of 2008-09 and the first quarter of 2009-10 that KBs Fair Price Shops and Food Bazaar have faced problems as during the period, organised retailers with high debt struggled to cope with spiralling rentals, power and staff costs in the wake of the economic slowdown.
The Future Group has reduced three stores till now, but now plans to set up about 300 stores by 2014.
Since March 2009, Pantaloon Retail India Ltd (PRIL) has been going low on setting up 30 Big Bazaars or adding another 1.5 mn sq ft that it had planned by June 2009. Predictably, the target of expanding even more aggressively to 30 million sq ft has been pushed back from 2011 to 2013, denting the revenue target of Rs 20,000 crore by 2013. Plans to enter the cash-and-carry business have also been shelved.