Selling fuel below cost is driving state-owned oil marketing companies (OMCs) to the brink as it shrinks profits, boosts interest payments and constrains borrowing room to expand or explore new business.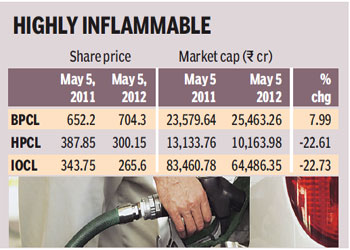 Indian Oil Corporation (IOC), Bharat Petroleum (BPCL) and Hindustan Petroleum (HPCL) will pay 80% more in interest of roughly R10,000 crore this financial year, denting profits. The companies had to borrow more this fiscal as their under-recoveries or losses incurred on selling fuel below cost ballooned to a record R1.4 lakh crore, and the Centre, battling a high fiscal deficit, delayed compensation in cash.
HPCL borrowed R30,000 crore this fiscal to meet working capital requirements and paid an interest of R2,000 crore amid rising rates. During the fiscal, interest rates have been high, with the RBI raising key rates to counter inflation, said HPCL director (finance) B Mukherjee. HPCL is waiting for compensation. We are confident the government will work out a formula to compensate for the under-recoveries we incurred.
Part of the under-recoveries is compensated through discounts on purchasing crude from state-run companies like ONGC while the government pays the rest in cash.
However, there is a lag of three to six months every quarter to receive compensation and the interest costs aren't counted, eroding these companies' profits.
The rising cost of borrowings is an outcome of populist government measures that subsidise fuel, said a consultant with a foreign consultancy. There is a yawning gap in the recovery of cost.
Oil marketers' balance sheets are getting weaker and their ability to borrow will go down, he added. He or his firm do not comment on specific companies. These companies, which take both rupee- and dollar-denominated loans, are prime borrowers and enjoy some of the finest rates. However, the Reserve Bank of India raised interest rates 13 times since March 2010 to contain spiralling inflation, making loans costlier, before slashing key rates by 50 basis points last month.
Almost three-quarters of borrowals are short-term working capital loans to meet operational expenses. An increase in borrowings is bound to affect profitability since interest costs are high, said PK Goel, director-finance at IOC, India's largest state-run refiner. He declined to give numbers as the company's accounts for the fiscal are being finalised. Oil companies are yet to announce their financial results for the fiscal 2011-12. However, in the December quarter, IOC's interest cost rose a whopping 116% year-on-year to Rs 1,560 crore, even as its under-recoveries stood at Rs 17,750 crore since it sold 'price-sensitive' products below their cost.
While high crude oil prices and a depreciating rupee contributed to increased under-recoveries, lack of policy reforms still remains the key reason for the burgeoning under-recoveries, Fitch Ratings said in a January report. There is also a lack of policy reform to improve timeliness of subsidy transfer to public sector oil marketers.
BPCL, the country's second largest refiner with a capacity of 30.5 million tonnes a year, saw its interest cost rising 88% to Rs 510 crore for the third quarter of fiscal 2011-12. If under-recoveries rise much higher and fuel prices are not revised, the government might ask us to absorb some of the losses, RK Singh, CMD, BPCL told FE in an earlier interaction. That situation can hit us badly, and impact our investment plans.
The 2011-12 fiscal year was exceptional, with crude prices above $110 a barrel most of the time. However, the fuel retailers have been unable to pass on higher input prices to consumers as the government dithered on raising product prices. Although petrol prices were taken out of government control in 2010, a tacit understanding with the government meant that fuel retailers held on to petrol prices for most part of the year.
Investors' concerns on the profitability of OMCs have had an impact on their stock prices, with both IOC and HPCL seeing an erosion of close to 23% in their market capitalisation in the last one year, to Rs 64,486 crore and Rs 10,163 crore, respectively. The fall is twice that of the decline in the benchmark 30-share Sensex. BPCL, however, saw an 8% rise in market value to Rs 25,463 crore as on May 10, compared to a year ago.
Shares of IOC closed at Rs 265.60 on the BSE on Thursday, while that of HPCL closed at Rs 300.15, both marginally below Wednesday's close. BPCL shares, meanwhile, closed at Rs 704.30, gaining 2.84%.
Year on year, there's a Rs 10,000 crore hole due to under-recoveries, said the consultant quoted above. The government will have to rejig subsidies or allow OMCs to pass on the price hikes to customers.
(With inputs from Yoosef KP)