There were Rs 5,550 crore of pre-sales recorded by these eight companies in the April-June quarter. (AP/PTI)
Domestic real estate firms kept their borrowings in check during the July-September quarter. In fact, some of them even managed to reduce debt by utilising one-time pre-sales from projects, rights issue proceeds and sales of non-core assets.
However, even with a minor reduction of 2.2% during the quarter, the consolidated net debt of eight debt-ladden real estate companies still remains high at Rs 36,977 crore.
While companies managed to lighten their debt load during the quarter, weakness showed on the profit and loss accounts as revenue bookings remained low and margins came under pressure. Barring Bangalore-based Prestige Estate Projects and Sobha Developers, launches were subdued for most other developers, according to a November 2013 report of Motilal Oswal. This hurt the pre-sale velocity of these companies during the quarter, which was down around 35% q-o-q and remained flat y-o-y.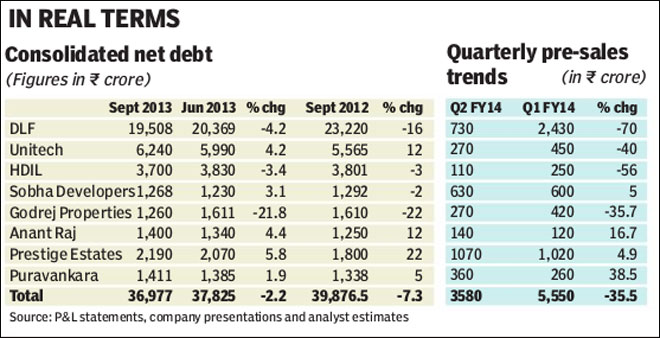 There were Rs 5,550 crore of pre-sales recorded by these eight companies in the April-June quarter, which was down to Rs 3,580 crore in the September ended quarter.
DLF Ltd, the country's largest real estate developer, saw its net debt come down by Rs 861 crore or 4.2% sequentially to Rs 19,508 crore in the September quarter. However, its sales dropped 4% y-o-y during July-September, denting the consolidated net profit, which declined by a steep 28% to Rs 100 crore, missing analyst estimates.
One-time upfront inflow of Rs 420 crore under crest subvention scheme boosted the cash flow and, along with divestment proceeds of Rs 660 crore (balance wind mill payment of Rs 525 crore and Rs 130 crore on insurance transaction), led to the reduction in net debt q-o-q. Brokerages Goldman Sachs and Bank of America Merrill Lynch in recent reports say that DLF is on track for its FY14 pre-sales targets and showing good traction on the debt-reduction front.
However, BoAML added that although the DLF management sounds confident of achieving its target of Rs 17,500 crore in debt by end-FY14, with or without the sale of Aman Resorts..."We believe DLF might disappoint here". Goldman Sachs listed execution delays, revenue-recognition delay and adverse regulations as key risks.
Meanwhile, Godrej Group's real estate arm, Godrej Properties Ltd, saw the sharpest reduction in net debt among peers. Net debt declined 21% to Rs 1,260 crore after the company utilised part of the Rs 700-crore rights issue proceeds for strengthening the balance sheet. Consequently, the debt-to-equity ratio came down to 0.57 against 1.10 in the previous quarter. Sales of the company surged 31%, but Ebitda margins were 140 basis points lower due to no new launches in the quarter and weak pre-sale velocity in some markets.
Delhi-based Unitech Ltd, on the other hand, saw its debt surge by Rs 250 crore as the group promoted company, Unitech Corporate Parks (UCP), took on debt for construction in its SEZs. "With the leasing activity gathering steam in UCP, construction has picked up pace," said Unitech sources. The company's consolidated net profit nearly halved to Rs 25.5 crore during the quarter due to a rise in expenses; however, total income from operations surged 10% y-o-y to Rs 596 crore.
Though Bangalore-based Sobha Developers and Prestige Estates continued to show an increase in revenues, margins were a tad below analyst expectations. JP Morgan said Prestige "yet again delivered a positive surprise with cash collections improving 23% y-o-y". The foreign brokerage said that the company's overall net debt increase of Rs 120 crore q-o-q was driven by dividends and elevated level of rental capex and land purchase. It said that the company's capex is likely to remain high till the next financial year.