On the first day the low-cost carrier (LCC) threw open bookings, it sold 37,348 seats, a record in Asia. And it was on May 23, 2005, more than five years back that SpiceJet kicked off its maiden flight from Delhi to Ahmedabad. Theres been much turbulence since then; high fuel prices, a downturn in both the domestic and global economies, and over-capacity in the industry have all contributed to some difficult times. In between, there was a change of guard and the entry of some big financial investors, who infused money and helped keep the business afloat. Now with a profit of Rs 61.4 crore in 2009-10 on revenues of Rs 2,181 crore, the carrier is in the black, commanding a marketshare of 12.6%. Indeed, this is the first time in the company's history that it has reported a profit; in 2008-09, it had posted a net loss of Rs 352.5 crore. But it has come a long way and between 2005 and now, the number of daily flights that are operated has nearly trebled, from around 50 to nearly140.
Even in 2008-09, when the Gurgaon-headquartered airline reported losses of Rs 352.5 crore, it seemed like a long haul. Consumer confidence was still low, but since mid-2009, things have been looking up. The carrier, which has a fleet size of 19 aircraft, flew as many as 6.6 million passengers in 2009-10. The only LCC that boasts of a higher marketshare is the Delhi-based Indigo that has cornered an impressive15.7% of the market. The Wadia-owned GoAir's share is just under 6%. Chief operating officer Sanjay
Aggarwal (in picture) attributes the turnaround in the airlines fortunes to two things: first to recovery in the economy and then to the manner in which the management reworked the utilisation plan for aircraft. He explains, We have carefully designed flight profiles to reduce fuel burn.
From the very beginning, Spice Jet had been clear that it would stay with one type of aircraft to keep both training and maintenance costs in check. Moreover, it has always leased aircraft for fixed periods of timecontracts are flexible and short-term in nature and typically for three to eight yearswhich has also helped keep expenses down. It has also been focused on keeping the logistics simple and being punctual and has built up a reputation for being on time, 77% of the time. This, apart from winning appreciation from passengers, has also allowed the airline to turn around the aircraft more quickly and to fly more hours a day12 hours.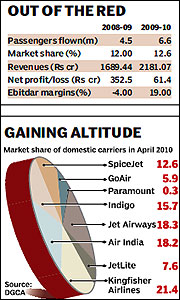 Historically, SpiceJet has reported higher than industry load factorscurrently they are around 81%and Aggarwal believes the trend will continue. In the meanwhile, the carrier has been adding to its fleetstarting out with six Boeing 737-800s, the hangar now has a couple of Boeing 737- ERs also. To cash in on the growing demand, five aircraft will fly into its hangar this year, taking the total number of aircraft to 24. Aggarwal, however, isnt increasing the number of destinations that the LCC will fly to; that remains at 19. The new aircraft, all 737-ERs, will be used to fly international routes; SpiceJet hopes the international operations will get off the ground in another three months. If they do, SpiceJet will be the country's first LCC to fly abroad apart from Air India Express that flies short-haul international routes. Initially, we will fly to Dhaka, Kathmandu and the Maldives," says Aggarwal. That, analysts point out, will reduce the idle time for the aircraft currently parked at the airports during the night and improve the utilisation further by about 5%.
Indeed, with an expanded fleet, Bank of America Merrill Lynch (BoA-ML) expects SpiceJet to clock a higher-than-industry traffic growth of 21.5% in the current year. BoA-ML also believes that carriers yields will improve by 7%. The airline's earnings before interest, taxes, depreciation. amortisation and rentals (Ebitdar) margin, an operational performance metric, improved to 19% in 2009-10.
The carrier plans to raise $75 million through a preferential allotment, though other options have opened up. Says Aggarwal, We continue to receive proposals from investors, but no decision has been taken so far. The airline needs to redeem foreign currency convertible bond (FCCB) investment by two financial investorsWilbur Ross & Co and the Dubai government's investment arm, Isthitmar. By December this year, we should have redeemed the FCCBs and our net worth should turn positive, he observes. Indeed, a cleaner balance sheet, with a smaller amount of debt, will make the airline more profitable.