Michigan-headquartered global auto major Ford Motor Company will soon enter Indias fast-growing commercial vehicle market through its wholly owned subsidiary Ford India. The company is in the last phase of firming up its plans and an announcement is expected in the next few months.
According to sources, the company would bring its light and medium-duty trucks in the sub 5-tonne category to India in the first phase.Ford has mega plans for Indian commercial vehicle market and the company is already in the last leg of strategising its approach for the Indian market. A formal announcement is expected in the next few months, a source privy to the companys plans told FE.
The source said as a part of the companys strategy to penetrate every segment of the Indian automobile market, Ford India has identified the countrys commercial vehicle space as the next growth driver. Ford is attempting to be in every segmentafter its small car Figo has received a good response they now want to enter newer segments in which they already have an expertise globally, he added.
When contacted, Ford Indias spokesperson said, This is pure speculation and there are no such plans. We continue to explore opportunities within passenger vehicle segment to bring products that our consumers desire and want.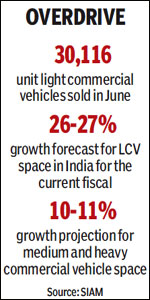 Fords plans to enter the commercial vehicle segment got crystallised months after its US-rival GM announced tie-up with Chinas top automaker SAIC to produce cars and light commercial vehicles for India.
In fact, GM India has already lined up an investment of $100 million for manufacturing LCVs from its Halol plant in Gujarat. The GM-SAIC LCVs are slated to hit the Indian roads next year.
Yezdi Nagporewalla, head of automotive at KPMG, said, Any new entrant should initially identify a less crowded segment to make a dent. Its also a question of the new entrants ability to bring global models into India at the right price. Another analyst who did not wish to be quoted said, Ford is a key player as far as CV segment is concerned. Now that the Indian market is growing so rapidly it makes commercial sense for Ford to tap this space.
At present, the countrys light commercial vehicle space is dominated by the likes of Tata Motors and Ashok Leyland. In fact earlier this year the most successful mini-truck of Tata Motors, the Ace crossed total sales of 1 lakh plus units. In June the total LCV sales (including passenger carriers) were 30,116 units.
Auto industry body, the Society of Indian Automobile Manufacturers, has forecast a growth of 26-27% at over 3.17 lakh units for the light commercial vehicle space in India for the current fiscal year. The medium and heavy commercial vehicle space is pegged to grow 10-11% at 2.2 lakh units.
Following the big response of its small car Figo the company has started a second shift of production at Maraimalainagar, near Chennai. The total capacity is in excess of 2 lakh units.