Real estate developers are looking to attract $10 billion of investments as they bundle over 100 million...
Real estate developers are looking to attract $10 billion of investments as they bundle over 100 million sq ft of commercial property in to REITs (Real Estate Investment Trusts) over the next couple of years. Blackstone, K Raheja, Embassy, Panchsil, DLF and RMZ could be first off the block together listing as much as 75 million sq ft, for an estimated $5 billion, in the next twelve months, once the REITs get clearance in India. The properties are located across eight Indian cities.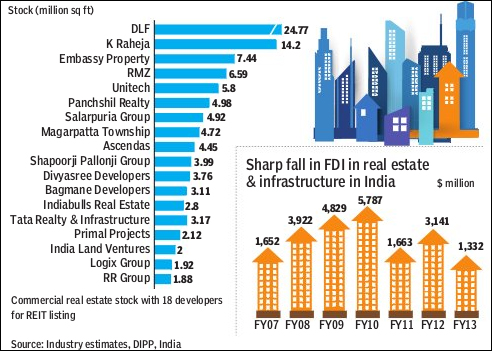 Anuj Puri, chairman and country head, Jones Lang LaSalle India (JLL), says REITs offer foreign investors a wider range of properties to buy into. Foreign investors can buy only into IT Parks or special economic zones, not stand-alone buildings or malls. However, REITs will bundle a variety of properties which will make them attractive investment options," Puri told FE.
The only hitch could be the unclear tax structure; right now it would appear REITs would be taxed at three levels. Its not clear, for instance, whether dividends received from REITs would attract the same treatment as dividends paid by companies, which are not taxed in the hands of the receiver. The industry is also apprehensive that a dividend distribution tax would be levied. Since 90% of the income earned must be distributed as dividends, the industry says it is important that the tax impact is negligible else returns to the investor could be meagre. Moreover, the norms arent clear on how capital gains would be treated and whether it would be similar to those from equities and mutual funds.
Gaurav Karnik, partner at EY, points out that if an investor holds equities or equity-oriented mutual funds, for more than 12 months, long-term capital gains tax could be nil.
In the case of REIs, it is not clear how the instrument will be treated and taxed," Karnik says.
REITs are investment entities where the corpus is invested primarily in completed, income-yielding real estate assets; the income generated is distributed among investors as dividends. The structure is similar to that of mutual funds that can be listed and traded on exchanges.
In October 2013, SEBI issued draft guidelines for REITs reviving a proposal that had been put on hold in 2008; the initial offer size has been pegged at Rs 250 crore and listing of units mandatory. The minimum public float must be 25% to ensure adequate public participation and float. The guidelines say that the size of the assets under REIT should not to be less than Rs 1,000 crore to ensure that initially only large assets and established players enter the market. REITs can raise funds from any investors, resident or foreign; the proposed minimum subscription size is Rs 2 lakh and the unit size Rs one lakh.
A June 2014 research report of JLL quoting Department of Industrial Policy and Promotion (DIPP) data says that FDI into the construction sector-townships, housing and built-up infrastructure-declined to about $1.3 billion over the April 2013 to February 2014 period from $3.1 billion in the April 2012 to March 2013 period. Developers with investible assets say they are keen on REITs as and when the format comes into the market. In principle we are supporting the idea of REITs in the country, but there is some clarity required on the tax structure, so we need to see how it pans out," says Amit Grover, national director (offices), DLF Ltd.