The governments expenditure on food subsidy for the current fiscal could touch R1 lakh crore, an all-time high, due to significant rise in procurement of grains and huge stocks, food minister KV Thomas has said.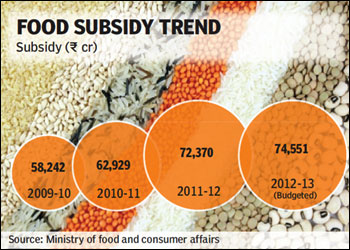 The government had budgeted R74,551 crore in food subsidy for 2012-13. Last fiscal, the government had to incur a food subsidy bill in excess of R72,000 crore.
Due to a substantial rise in wheat procurement, food subsidy bill could go up significantly, KV Thomas told FE. The rise in food subsidy is mainly attributed to rising holding cost of grains.
In the current rabi marketing season, while the food ministry had set a target of lifting 31.8 million tonne (mt) of wheat, the procurement has already crossed 33 mt and is expected to hit 35 mt by end of the procurement season.
The massive procurement had been helped by a bumper wheat output of 90 mt for the current year.
Last year, FCI had purchased only 28 mt of wheat from farmers.
Funds for the grains procurement is arranged by FCI and state government-owned agencies by taking cash credit facilities from banks and other financial institutions.
The government provides the subsidy to meet the difference between the cost of purchase of grains (minimum support price and other administrative costs) and prices at which the grain is allocated to states for distribution under the targeted public distribution system. (TPDS). At present, the government supplies 35 kg of rice and wheat every month at subsidised rates to 6.52 crore BPL families under TPDS. Besides, another eight crore families under APL category get subsidised grain.
It was largely due to the increase in grains procurement that the stocks held with FCI and state government-owned procuring agencies crossed an all-time record of 71 mt at the start of May. The stocks are expected to reach 74 mt by June 1, a food ministry official said. At present, the government is facing acute storage capacity.
The government looks into procurement, storage, transportation and bulk allocation. The responsibility for distributing the same to consumers via ration shops rests with state governments.
We never had so much of stocks and we are trying to manage the rise in procurement, Thomas said.
If the food subsidy bill crosses R1 lakh crore for the current fiscal, it would be a huge jump as during 2009-10 the government had allocated R58,242 crore under the grain subsidy account.