Indias food inflation fell to single digit for the first time in more than a year giving much needed breather to government which has come under relentless attack from the opposition parties for rising prices.
According to data released by on Thursday by commerce and industry ministry, the food inflation declined to 9.67% for the week which ended on July 17 from 12.47% reported in the previous week. The governments statement noted that the decline in food inflation is attributed to significant decline prices of vegetables especially potatoes and onions.
On a yearly basis, potatoes became cheaper by over 46% and onions by more than 10%. Overall vegetable prices fell 14.77% , the statement said.
Food inflation came down to single digit for the first time since the government started giving separate figures for inflation of primary articles in November 2009.
Meanwhile, the issue of price rise rocked Parliament on Thursday again leading to adjournment of the proceedings in both the Houses for the third consecutive day.
The prices of essential agricultural commodities are expected to decline further during the next few months because of widespread monsoon which is expected to boost supplies. Besides with an expectation of better output, stocks are being released into market which would ensure decline in prices, PK Joshi, Director, National Academy of Agricultural Research Management, affiliated to Indian Council for Agricultural Research, told Fe.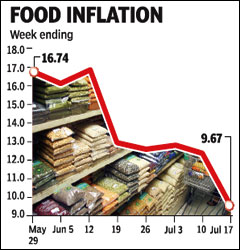 However, prices of pulses, milk and fruits rose by 21.23% , 19.03% and 12.14% respectively during reporting week.
Overall vegetable prices on a weekly basis went down by 0.34% . On annual basis, rice became costlier by 5.31% though it softened by 0.64% on a week-on-week basis. Similarly, prices of cereals rose by 5.62% on a year-on-year basis, but fell 0.04% week-on-week.
With the decline in prices, the government must focus on improving distribution system so that food products are available at reasonable prices to consumers, Biraj Patnaik,Principal Adviser to the Commissioners of the Supreme Court in the right to food case, said.
The fall is basically due to the high base affect. Besides seasonal fall in food inflation is normal. And we can expect further fall due to monsoon progress and rise in farm productivity, a agency report said quoting Jayati Ghosh, professor of economics at Jawaharlal Nehru University.