With the Sensex returning to rally mode gaining 6.51% in the last five sessions, more than two dozen stocks hit their lifetime highs on Wednesday. Among them was cigarette and consumer major ITC, which is looking to treble its FMCG turnover (excluding cigarettes) to Rs 15,000 crore in the next five years. Shrugging off the weatherman's slightly less-than-normal monsoon forecast, several FMCG stocks including Colgate and Marico hit new highs. The BSE FMCG Index has now risen 6.36% over the last five sessions.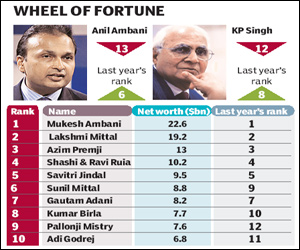 Mohan Swamy, head of research at RBS Securities said: FMCG stocks have been rallying for a while, partly because they are defensive in nature. Moreover, there is a general feeling is that commodity prices have peaked and so margin pressures could ease going forward.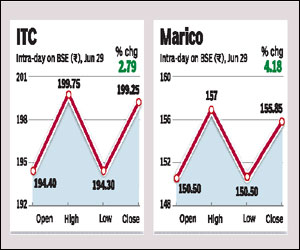 However, there are those who believe that the economic slowdown could hurt consumption, which has been resilient so far. In a recent report, Nomura observed that the slowdown was starting to become widespread as data from auto companies suggest growing demand sluggishness. Commentary from FMCG companies continues to get more cautious, suggesting that the tightening cycle is finally starting to have an impact on end-consumer demand, the report noted.
However, Godrej group chairman Adi Godrej recently observed that the industry expected a normal monsoon with a good crop and therefore, better demand. The FMCG sector will definitely have a good growth this year, he told a news agency.
Thomas Varghese, chairman, CII national retail committee and CEO, Aditya Birla Retail, observed that the demand for basic FMCG goods is still strong especially in discount stores. However, there is definitely a cutback in spends on apparel, consumer durables and electronics and these are the lead indicators of a slowdown, Varghese said.
Higher salaries have supported strong consumer spending so far. Consumption would continue to benefit from positive real wage growth, Kaushik Das, economist, Deutsche Bank explained. Indeed, this is reflected in the results of companies like Page Industries which markets the Jockey brand of underwear and Jubilant Foods which runs the Domino's Pizza chain; both stocks hit new highs on Wednesday.
Moreover, strong agricultural growth over the past year has ensured that farm incomes remain high.
While the south-west monsoon has been 11% higher than normal till June 20, 2011, the IMDs revised forecast implies that the overall seasonal rainfall would be 5% lower and the crucial months of July and August could see 6-7% below-normal rainfall.
Although it is too early to draw conclusions, should the IMDs forecast turn out to be true, it could be negative for FMCG and two-wheeler companies, brokerage CLSA said. While GDP growth in the three months to March 2011 slowed to 7.8% y-o-y, consumption growth held up at 7.5% y-o-y. It was the deceleration in investments, which grew just 0.4% y-o-y, which dragged down growth. On the production side, agriculture grew at 7.5% y-o-y, lower than the 9.9% rise seen in the October-December quarter. Agriculture is expected to grow at 3% in 2011-12, on a high base of 2010-11 when it grew 6.6%.