Finance Minister Pranab Mukherjee has handed a big relief to air travellers by clarifying that the new service tax imposed on them in Budget 2010-11 would be capped at Rs 100 per ticket for domestic travel in any class and Rs 500 for international travel in economy class.
This means that the tax in almost all cases, except for business-class international travel, would exactly be these amounts, as the 10.3% levy on value of the air fare would seldom be less.
While replying to the debate on the Finance Bill, Mukherjee also sought to address construction industrys concerns, by allowing an increase in the rate of abatement on service tax from 67% to 75%, provided the gross value included the value of the land. Effectively, this would mean that the levy would be 10.3% of 25% of the gross value that includes land value. Tax experts, however, termed this as a partial relief and said that the abatement rate should have been 85%.
In case of air travel, it is a very welcome move as it is a huge relief for travelers, though the real estate sector has got only partial relief, said Harishanker Subramaniam of Ernst & Young.
The minister also announced an increase in the export duty on iron ore lumps to 15% from 10%, a move that could shrink China s procurement from India . China , the worlds largest steelmaker, banks on India as its number three supplier after Australia and Brazil . These and other changes to the tax proposals in the Finance Bill would translate to a revenue outgo of Rs 400 crore.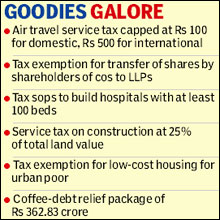 If the budget proposals were implemented as such, home buyers would have paid at least 3.3% of the value of the house as service tax while air travellers would have had an additional burden of 10.3% on fare.
The finance minister also unveiled a Rs 241-crore debt waiver for small coffee growers who suffered due to crashing prices between 200 and 2004. In another relief to companies converting into Limited Liability Partnership (LLP), Mukherjee exempted from taxation the transfer of shares by the shareholders of the company in respect of such a conversion.
With the exemption of transfer of shares by the shareholders of a company for conversion into a limited liability partnership (LLP), the shareholders will not have any tax liability from such conversion, said Ved Jain, tax expert and former president of the Institute of Chartered Accountants of India. This was not clear from the budget proposal that made conversion from a public unlisted or private company into an LLP free of capital gains tax, he added.
The hike in export duty on iron ore is expected make more of iron ore lumps available for local steel makers, currently facing a shortage in ore supplies and firm prices as a result. The government had raised the duty on iron ore lumps last December to 10% from 5%, and on fines it imposed a 5% duty. Besides, basic custom duty on stainless steel melting scrap has now been reduced from 5% to 2.5%. Further, to disincentivise exports of raw cotton, the government also proposed to raise the statutory rate of export duty on raw cotton from Rs 2500 per metric tonne to Rs 10,000 per metric tonne while maintaining the effective rate at the current level.