Finance minister Pranab Mukherjee on Thursday announced a Rs 241.33-crore debt relief package for small coffee growers that suffered due to fall in coffee prices between 2000 and 2004.
Under the proposed Coffee Debt Relief Package, the government will waive 50% of the total liability for pre-2002 loans, subject to a maximum benefit of Rs 5 lakh. An additional 25% shall be waived by banks and balance shall be rescheduled, Mukherjee said in Lok Sabha while replying to the discussion on the Finance Bill 2010.
The total benefit to the Coffee growers will be around Rs.362.82 crore, he said. The package also envisages 20% waiver of liability under crop loans with 10% each being borne by the government and banks, respectively, subject to a maximum benefit of Rs 1 lakh. For term loans taken after 2002, 10% of the total liability shall be waived subject to a maximum benefit of Rs 1 lakh.
Modular employment skill development courses provided by training institutes, registered under Skill Development Initiative Scheme of the ministry of labour, have been exempted from service tax with effect from Thursday.
The minister has proposed to reduce the excise duty on hand-rolled cheroots priced up to Rs 3 per stick to 10% ad valorem. The additional excise duty on this product shall now be 1.6% ad valorem. Excise duty exemption, currently available on supari, has been extended to scented supari as well. Central excise duty on corrugated boxes and cartons was reduced from 8% to 4% when they are manufactured starting from kraft paper. I propose to extend the exemption to cover units that manufacture such cartons from corrugated paper or paperboard also, he said.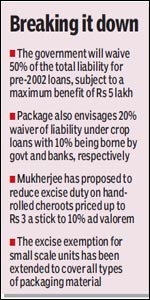 The excise exemption for small-scale units has been extended to all types of packaging material, including goods that bear the brand name of another person who was not hitherto included.
The government has also exempted parts or components used in manufacturing optical disc drives (ODDs) from basic custom duty. ODDs are currently exempted from any import duty.
Flax fibre and yarn have also been exempted from basic custom duty to encourage domestic value addition. The government has extended the custom duty exemption to parts and components of tunnel boring machines
Tunnel-boring machines are critical for hydroelectric projects. Since these are not produced domestically, full exemption from customs duty was provided in this budget. It has been represented that owing to their huge size these machines are incapable of import in a single consignment. Considering this practical difficulty the exemption is being extended to parts and components of tunnel boring machines, the finance minister said.
In order to end the problem of inverted duty structure (where finished goods attracts a lesser duty than the raw material), the acetate rayon tow used for making cigarettes has been fully exempted from countervailing duty. To handle a similar issue, excise duty on waste paper used for making paper and paper board made from non-conventional raw material has been reduced to 4%.
The components used to make machinery would attract excise duty on the basis of their retail sale price, the same provision that now applies to automobile components.