In what could be construed as triumph of corporate interest over national interest, the iconic Harley-Davidson bike will now not just be merely assembled, but fully built in India ? lock, stock and barrel. The company has asked suppliers in the US and Thailand to set up bases at Bawal in Haryana and offered them land as well. With over 60% localisation in components, the cheapest Harley Superflow that costs around Rs 5.5 lakh in India now would become 40-45% cheaper.
US President Barack Obama, during his maiden visit to India last November, had played up Harley?s plans to set up a plant in India as a win-win for jobs for both countries. With the company now deciding to virtually ?junk? plans for a mere completely-knocked-down (CKD) units facility ? an industry euphemism for mere assembly operations ? Obama?s US jobs math is sure to take a hard knock.
The eponymous Milwaukee-based company is learnt to be upgrading its four months-old plan to set up an assembly plant in Haryana, to a ?mother plant?. The plant will cater to the growing demand for its cult bike brand across booming Asian markets. Basing its bike factory in India ? renowned for its globally cost-competitive auto manufacturing ? will also make its products more affordable, with the sticker price down a third in India alone once the new facility comes upstream.
The development is significant since apart from the pricing edge, this would be the first manufacturing unit of any luxury automobile company in the country.
Industry sources told FE that the development was prompted by an overall turnaround in the domestic market and a gradual shift in focus to international markets such as India and China.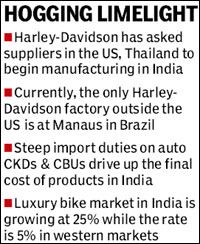 Harley-Davidson sold about 200-250 bikes in India during the second half of 2010. ?The company has asked its global vendors in the US and Thailand to set up manufacturing units in Bawal. It has also given expressions of interest to Indian component makers for supply of vehicle parts to its Haryana unit, which would commence its operations in mid-2011,? a vendor with direct knowledge of the development told FE.
The source said Harley-Davidson has also offered land to some of its vendors at Bawal in Haryana. However, the company has not disclosed any details relating to the production capacity at the plant and the quantum of investments to be made by the company over the next few years.
When contacted, the company?s India spokesperson refused to confirm or deny the development. ?Harley-Davidson is committed to global growth. The development of our India CKD assembly operations is proceeding on schedule as we look to build our brand presence around the world,? the spokesperson added.
An auto analyst with a global consultancy firm said that the luxury motorycle market in India is growing at 25% plus while the western markets are growing at 5%.
This has prompted global automobile companies to set up shop in India to expand their sales and benefit from the lower labour costs.
At present, import duties levied on completely built units (CBUs) and CKDs are at 110% and 60% respectively. The company will be able to make substantial savings with a mother plant in India. It would also reflect on the final cost of the bike.
Harley stormed into popular culture globally with Arnold Schwarzenegger riding the hunky automobile in Terminator-2. In India too, actors like Sanjay Dutt and cricketer MS Dhoni are known to be among the many die-hard Harley fanatics.
Harley-Davidson India commenced operations only in August 2009 and opened its first dealership in July 2010. In India, the company currently offers 12 models available through authorised dealerships in New Delhi, Mumbai, Chandigarh and Hyderabad. The bikes come in a range of Rs 5.5-35 lakh.