In a bid to fast-track approvals for foreign direct investment (FDI) proposals, the government plans to do away with the mandatory Cabinet Committee on Economic Affairs (CCEA) nod for FDI above R1,200 crore. Even such large projects would now be cleared at the sub-ministerial level of the Foreign Investment Promotion Board (FIPB), provided no national security angle is involved.
This would save foreign investors five to six months when it comes to obtaining the regulatory clearance and spur FDI inflows which have slowed in the last couple of years.
Currently, all FDI proposals above R1,200 crore have to be referred to the CCEA for vetting. Major cross-border deals involving FDI flows into India such as Daicchii-Ranbaxy, Hero-Honda, Tata-Docomo, Unitech- Telenor have all gone through the CCEA.
The department of industrial policy and promotion (DIPP) has decided to modify the regulation which makes CCEA approval compulsory for FDI investments above Rs 1,200 crore, in addition to the approval of Foreign Investment Promotion Board (FIPB), said a government official privy to the development. A draft note of the proposal has already been prepared and it would soon be sent for the Cabinet so that the relaxation could be implemented without delay, the official added.
The change has been considered in wake on increasing size of investments in greenfield FDI projects as well as M&A deals. Apart from cutting a layer of scrutiny that appears redundant, the planned move would also also make it easier for existing foreign investors who wish to enhance their investments.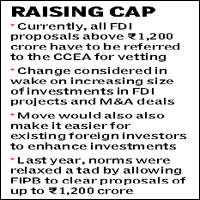 At present, if a foreign investor has invested up to R1,200 crore in an existing venture and wishes to scale up its investment even by, say, R10 crore, he needs approvals from both FIPB and CCEA.
The move will also lessen the burden on CCEA which always has its hands full with more important matters of national importance.
However, government will not rule out the possibility of a CCEA nod in FDI cases which have serious implication with regard to national security. Mostly such cases fall in telecom and defence, where the government can always ask for CCEA opinion.
Last year, the government relaxed its norms a bit by allowing FIPB to clear FDI proposals of up to R1,200 crore. Till then, all project proposals that involved investment of above R600 crore were put up before the CCEA for approval.
The government also feels that the move would help increase the FDI flows into the country, which seem to have slowed. Overall FDI inflows into the country dropped by 25% to $19.4 billion during 2010-11 against $25.8 billion in the year ago period, according to official data.
The government is also taking steps like allowing FDI in Limited Liability Partnership firms to attract foreign fund inflows into the country.
The government is also considering to liberalise FDI policy in multibrand reatil sector. An Inter-ministerial Group headed by chief economic advisor Kaushik Basu on Thursday suggested that foreign investments in the multi-brand retail should be allowed at the earliest as it would help address supply side constraints in the economy and ease inflationary pressures.