The government has allowed Max group chairman Analjit Singh and former Vodafone-Essar CEO Asim Ghosh to part-sell their respective stakes in Vodafone-Essar Ltd to Vodafone plc. Singh stands to make Rs 533 crore and Ghosh Rs 329 crore from their divestment. With the Rs 862-crore purchase, the UK companys stake in Indias second-largest GSM mobile operator will rise 6% to 58%, well below the 74% sectoral FDI cap.
The approval from the foreign investment promotion board (FIPB), which had thrice before deferred the proposal, is significant as concerns were raised regarding treaty shopping, wherein investors use the Mauritius route to bring investments, taking advantage of Indias double-tax avoidance treaty with that country. Disquiet was also voiced regarding the loss of Indian control over Vodafone-Essar according to the modified FDI norms, under which the duo was shedding its stakes.
It is understood that Singh will use the proceeds to buy 17% stake in East India Hotels from the promoter Oberoi family for around Rs 1,200 crore.
Singh and Ghosh hold 7.58% and 4.68% stake, respectively, in Vodafone-Essar through Telecom Investments India and routed through a web of other holding companies. With this deal, both will dilute their stakes by around 49% each in the holding companies, and thereby in TII, which has a direct stake in Vodafone-Essar. Singhs post-sale stake in Vodafone-Essar will come down to 3.87% and Ghoshs to 2.39%.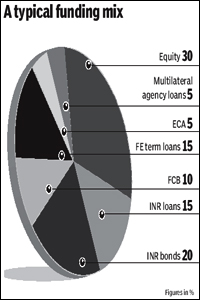 However, FIPB has said that post the stake sale, Vodafone-Essar should not lose its Indian tag and the power to appoint majority directors on the board should vest only with resident Indians.
The shareholding of the two entrepreneurs became a contentious issue in 2007 when Vodafone plc bought Hutchison Telecoms 67% stake in the Indian mobile company for $11.1 billion. At that time, both Singh and Ghosh were accused of acting as fronts for Vodafone plc and Hutchison in breach of the sectors 74% FDI cap. The Ruia family-led Essar group still holds 33% in Vodafone-Essar and 2.74% is held by IDFC.