The finance ministry has rebuffed the petroleum ministrys recent proposal to give income tax breaks to entities producing natural gas under exploration permits given during the first seven rounds of Nelp (national exploration licensing policy). Explorers like ONGC, RIL and Essar were hoping to book tax-free profits from those blocks.
At present, firms that have been commercially producing natural gas since April 2009 from Nelp-VIII blocks enjoy a seven-year income tax holiday. But the petroleum ministry wants this to be extended to entities that were awarded blocks in earlier rounds as well. Finance minister Pranab Mukherjee in this years Budget introduced the tax holiday for companies producing and refining natural gas from Nelp-VIII blocks.
The petroleum ministry wanted to extend the same sop to earlier licensees as developing a block for commercial production takes several years and many of the blocks licensed earlier either started production recently or only after April 2009.
Even at a record-setting pace, Indias largest private refiner Reliance Industries took six-years-and-a-half against a world average of nine years after discovery to develop the Krishna Godavari D-6 block, which was licensed to it in the first round of Nelp in 1999.
A finance ministry official told FE that while rejecting the proposal, the ministry took the view that entities that strike gas make profits after recouping their entire cost and, therefore, they should not hesitate to pay tax on the profits.
Large industries are not founded on tax sops, said the official on the condition of anonymity.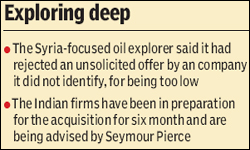 While the total committed investment during previous Nelp rounds is about $10 billion, Nelp-VIII saw a total committed investment to the tune of $1.34 billion.
The finance ministry has also shot down a second proposal by the petroleum ministry, seeking to relax the March 2012 deadline for private sector refiners to start refining mineral oil to be eligible for income tax breaks. The 2012 cap was also introduced in this years Budget.
Natural gas explorers, who got licences in the first seven rounds, and mineral oil refiners are, therefore, unlikely to get any windfall tax sops in the next Budget. The finance ministry official also said no tax breaks would be allowed on these two counts in the direct tax code either.
Under the recently concluded eighth round of Nelp, 76 bids were received for 36 blocks, of 70 blocks on offer. CBM-IV got 26 bids for 8 blocks, of 10 blocks on offer. The response of the E&P industry has been encouraging in the context of the global financial situation and responses to similar offers in other countries.