Foreign institutional investors (FIIs) have kept their faith in the BSE 100 companies. FII holding has risen in 45 of the 74 BSE 100 companies in the March quarter on the back of over $4 billion in FII inflows during the period.
FIIs have been accumulating shares of capital goods companies on expectations of a stable government and an economic recovery. The BSE Capital Goods index has gained more than 17% in the March quarter.
?Valuations in the capital goods sector have picked up meaningfully since the lows of September 2013, as investors anticipate the bottoming of the economic cycle and the possibility of a stable, reform-minded government,? Kotak Institutional Equities said in a recent report. Within the capital goods sector, FII holding has risen the most in Cummins India; from 16.95% in December quarter to 18.42% in the March quarter. Crompton Greaves Ltd (0.82 ppt), Siemens (0.62 ppt), Larsen & Toubro (L&T) (0.62 ppt), Bhel (0.52 ppt) and ABB (0.28 ppt have seen a rise in FII holding.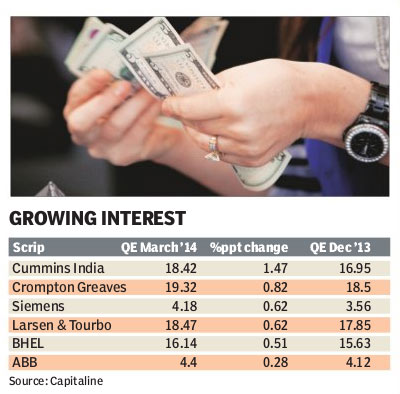 Within the BSE 100 universe, FII holding has risen the most in auto-ancillary company Bharat Forge; from 13.57% in the December quarter to 16% in the March quarter. Analysts are bullish on the stock and believe the Pune-based company could see its debt reduce in FY15.
?With the company?s current utilisation rate at about 60%, any improvement in global demand is likely to result in higher operating leverage. Bharat Forge has slowed down its capex plan, resulting in stronger free cash flows, which are being used to reduce its debt burden. We expect net debt to equity to fall to 0.5x in FY15,? HSBC said in a recent report.
Other scrips that have been popular among FIIs include IndusInd Bank (2.15 ppt), Divis Laboratories (1.94 ppt), United Phosphorous (1.84 ppt), JP Associates (1.51 ppt), Cairn India (1.49 ppt) and Cummins India (1.47 ppt).
On the other hand, FIIs have been trimming their holdings in Asian Paints (-1.5 ppt), Canara Bank (-1.37 ppt), Federal Bank (-1.34 ppt), Tech Mahindra (-1.32 ppt), NTPC (-0.99 ppt) and HDFC Bank (-0.84 ppt).
FII holding has also gone up among Sensex and Nifty heavyweights. For the 30-share Sensex, overseas investors increased their holdings in 11 of 20 stocks that have so far disclosed their March quarter shareholding pattern. For Nifty, FIIs have upped their stake in 20 of 38 stocks. The benchmark indices, Sensex and Nifty, have gained more than 5% in the March quarter.