Relying on hopes of interest rate cut, coupled with improvement in India Inc's second quarter earnings and revival in industrial production, year-to-date flows into Indian equities by foreign institutional investors (FIIs) crossed $18 billion Monday.
According to Sebi data, FIIs pumped in over $1.94 billion so far this month compared with $3.84 billion in September on renewed optimism in Indian equities, which is benefiting from favourable fiscal and monetary actions by the government and the Reserve Bank of India, alike. Market is expecting a 25-50 basis point cut in interest rates as well a cut in CRR by the country's central bank in its Oct 30 policy meet.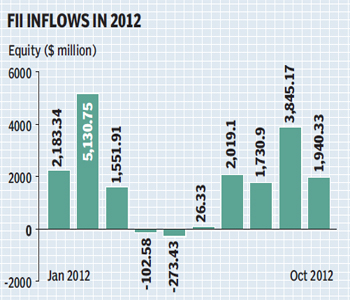 Indian equities have given returns of around 8% in the previous two months after finance minister P Chidambaram announced slew of reforms, relieving investors' worries on policy paralysis and assuring to put the country back on a high growth trajectory. In 2012, Indian equities have given returns of more than 21%.
Analysts said September was a good month for Indian equities as the government renewed the faith of foreign institutions by pushing its agenda of reforms. As a result, many institutions have increased target for Indian benchmark indices.
Last month, Morgan Stanley raised its Sensex target for December 2013 to 23,069, roughly indicating a 25% upside from current levels. Deutsche Bank also raised its Sensex December 2012 target to 20,000, while Citi raised its index target to 19,900 for June 2013 as against the previous target of 18,400 for December 2012.
However, markets saw a slowdown in FII inflows last week after International Monetary Fund (IMF) cut India's full year GDP forecast by a fifth.
On a monthly basis in CY12, February saw the highest inflow of foreign funds ($5.13 billion) followed by January ($2.18 billion) and July ($2.01 billion), respectively. According to EPFR Global-tracked funds, emerging markets continue to enjoy their current inflow streak to six straight weeks as investors stepped up in pursuit of higher yields.