Rupee rose to a two-week high, snapping a five-day losing streak on hopes that the end of the four-day logjam in Parliament over foreign direct investment proposals will attract dollars into the country.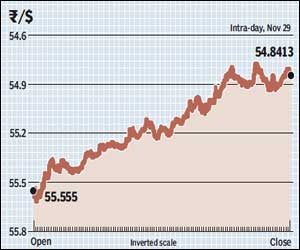 The governments proposals of higher FDI into key sectors such as retail and aviation will be now debated and voted in both houses of Parliament.
The UPA allies and opposition parties had demanded FDI proposals must be debated and also put to vote. The government, however, was reluctant to put the proposals to vote. Given the deadlock in the winter session of Parliament, rupee had weakened over 1% since November 22. The currency recouuped its weekly loss on Thursday and ended at 54.84/$.
There were significant gains made on Thursday because equity market was positive and FDI proposals were put to debate, said a dealer from a public sector bank.
That (FDI proposals) by itself will not bring in dollars, it is just a change in the sentiment, said Mohan Shenoi, head of treasury at Kotak Mahindra Bank. Shenoi expects the rupee's gains to be limited to 54.50/$.
Most dealers said any positive news on FDI would add to rupee gains. It all depends on what happens in Parliament over FDI, said a dealer at a private bank.
Notwithstanding the sentiment boost on Thursday, rupee will continue to be under pressure due to weak current account deficit (CAD) situation, treasurers said.
The current account deficit problem is still there, said Shenoi. Over next one month, Shenoi expects rupee to move in 54.50-56.20 band with a bias towards depreciation. We need to fix the CAD first. Only then the currency can appreciate on sustainable basis, said the head of treasury of a public sector bank.
India's current account deficit narrowed marginally to $16.4 billion in April-June from $21.7 billion in January-March. Kotak Mahindra Bank estimates that the current account deficit for 2012-13 would be around $80 billion. For 2011-12, the CAD was a record $78 billion or 4.2% of gross domestic product.
Dealers said that the Indian currency could end this week with a gain of at least 2% on the back of the positive move on FDI.