Debt recovery tribunals (DRTs) and the Securitisation and Reconstruction of Financial Assets and Enforcement of Security Interest (Sarfaesi) Act, once considered to be speedy recovery mechanisms for banks, arent turning out to be as effective as believed. Between 2009-10 and 2011-12, the number of cases referred to DRTs rose by over 120% while the amount involved rose by over 140%. However, the amount recovered rose a paltry 31%, according to data collated by the Standing Committee on Finance in its 67th report, presented to the Lok Sabha on Monday.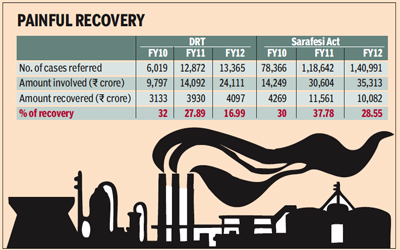 The report says the amount recovered through DRTs stood at R4,097 crore compared with R24,111 crore worth of loans referred to the tribunals as on March 31, 2012, helping banks recover less than 17% of the referred amount. Similarly, in case of the Sarfaesi Act, banks were able to recover less than 30% of the R35,313 crore involved during 2011-12.
Bankers say that owing to slower court proceedings, wilful delays by borrowers and uncooperative district authorities, they have been unable to conduct meaningful recoveries through these processes.
When DRTs were first introduced, we were told that any case referred here will be sorted out in less than six months. However, cases last for years before banks can be certain of any recoveries, said a senior official at a leading public sector bank.
When it comes to Sarfaesi notices, banks need to get an approval from the district authorities before they can take over the borrowers assets, which is usually a problem.
The authorities will say that we dont want to give permissions because its a contentious issue. Or they will delay it without even giving any reasons, said the chairman of another leading public sector bank.
Moreover, borrowers also create some form of delay by putting a stay on the Sarfaesi proceedings through a court notice or by rigging the auctioning process.
The problem is that most of these laws are made keeping the borrower in mind. Nobody really sees what the lender is losing, said another senior banker.
The delays through these mediums often lead to destruction in the value of the borrowers assets and, therefore, cause undue losses to the lenders.
When a borrower is unable to repay his loan despite repeated reminders, banks can choose between either broking a deal with him or taking the legal route and taking over the underlying security. Banks can either serve the borrower with a Sarfaesi notice or approach the DRT.
Under the Sarfaesi notice, the borrower has 60 days to repay the loan, after which banks are allowed to take over his assets and auction them to recover the outstanding amount. If lenders choose to approach the DRT, they can serve a legal notice to the borrower and recover their outstanding loans through a court settlement.
As on December 2012, the outstanding net non-performing assets (NPAs) of public sector banks (PSBs) formed 2.1% of their total assets, compared with 1.47% as on March 31, 2012. In absolute terms, net NPAs stood at R77,042 crore, up 50% from March.
The Standing Committee reported noted that though total reduction in NPAs improved by R7,000 crore to R49,999.27 crore in March 2012 from a year earlier, the percentage of reduction in NPAs due to actual recovery remained stagnant at 35% only, while the compromise write-offs and upgrades together constituted 65%. "It is, thus, evident that the performance of individual PSBs in recovering the NPAs as compared to write-offs/upgradation is far from satisfactory," the report stated.
Cos with...
The official auditor in an earlier report had termed the government's captive mining policy as flawed because it led to windfall gains for private sector companies. In a bid to bring about transparency, the government has already decided to offer all future coal blocks through an auction (competitive bidding) process.
The inter-ministerial panel will also look into whether the plan can be implemented without amending the Coal Mines (Nationalisation) Act, through an executive notification. The panel will also discuss the need to include more government agencies apart from CIL for procuring the surplus coal. The Planning Commission is, however, batting for CIL and its subsidiaries after taking into account their supply obligations.
The proposal is also to make sure that those captive block holders who are yet to set up power plants but have started producing coal can also sell their output using the PPP route to other needy approved end users in the power, steel and cement sectors.
Out of the 192 captive mines that have been offered since 1993, only around 29 have commenced production so far, with an output of just about 40 million tonnes of coal per annum. A CIL official said that the policy on surplus coal may not give the intended benefit immediately as the government would have to address other issues delaying these projects first. Several companies having captive coal blocks are facing environmental and land acquisition-related hurdles that have also delayed their projects.
Out of the total around 270 billion tonnes of domestic coal reserves, captive blocks owned by private players have a reserve of over 40 billion tonnes. However, despite large coal reserves, imports of the fuel during 2012-13 fiscal are expected to cross the 110-million-tonne mark and is set to touch around 185-200 million tonnes by 2016-17.
Finance minister P Chidambaram in his Budget speech had also emphasised the need to bring down the dependence on imported coal in the medium to long term through a PPP policy framework with CIL as one of the partners so that the domestic coal production can be hiked for supply to power producers and other consumers.
The current domestic coal production is a little over 500 million tonnes, but the domestic players face various regulatory challenges, including delays in clearances and those relating to infrastructure deficit in the country that hit transportation of the commodity.
The government is also keen to increase the domestic supply of coal and reduce the country's dependence on imports of the commodity. High volume of coal imports is one of the main factors leading to a high current account deficit (CAD), which had touched a record 6.7% of GDP in the third quarter of the last fiscal.
The recent economic review by the Prime Minister's Economic Advisory Council had also recommended increased production of domestic coal so that thermal coal imports are lower by $2-3 billion in 2013-14. This was one of the crucial suggestions by the PMEAC so that the CAD could be contained at around 4.2-4.4% of GDP this fiscal, from 5.1% in the last fiscal.
ICICI Bank...
ICICI Banks total income for the March quarter rose just 10% y-o-y and while net interest income at 22% y-o-y saw a reasonably good increase, other income fell 1% y-o-y. The bank hopes to improve on its net interest margin (NIM) of 3.1% for FY13 after reporting a NIM of of 3.3% for the March quarter, a rise of 23 basis points (bps) over the December quarter.
On investigations in allegations of money laundering, Kochhar asserted that both the internal inquiry as also the inquiry by Deloitte revealed that no actual transactions were found to have taken place.
The banks asset quality remains stable with gross non-performing assets (NPAs) sequentially down 9 bps at 3.22%, and net NPAs rising 1 bps to 0.77%. Our current credit costs are 66 basis points and depending on the environment, its possible they could go up to about 75 basis points, Kochhar said.
Fresh additions to NPAs in the fourth quarter were lower at R779 crore, compared with R862 crore in the previous quarter while net restructured assets were R788 crore.
Provisions rose sequentially to R460 crore from R368.7 crore, while the provision coverage ratio (PCR) is now 76.8%. The banks CASA ratio improved to 41.9% at the end of March, from 40.9% on December 31, 2012. Total deposits stood R2,92,614 crore, up 15% y-o-y. ICICI Banks capital adequacy stood at 18.74% at the end of March 2013, compared with 18.52% at the end of March 2012.