Standing on the lawn of the U.S. Capitol on Tuesday morning in the path of an early spring breeze, Renee Trautwein tearfully braced herself to relive the worst morning of her life.
In a few hours, Mary Barra, the chief executive officer of General Motors, would be pressed to answer why the largest U.S. automaker did not act sooner to fix an ignition switch defect that can suddenly leave certain models of its cars without power.
Trautwein's daughter died in one of those cars, a 2005 Chevy Cobalt, in South Carolina on the morning of June 12, 2009 - an accident Trautwein had previously thought was caused by her daughter falling asleep at the wheel.
Since the recall of the vehicle earlier this year, Trautwein now believes the car lost power and was unable to be steered.
"The first question a parent asks when they lose a child is, 'Did they suffer' And now I have to relive this and I have to know about her final seconds on this earth and the panic that she felt. And that's very painful," Trautwein said as she left a press conference held by auto safety groups, members of Congress and families of victims ahead of the hearing.
More than 20 other parents who lost children in the recalled cars traveled to Washington this week to attend the congressional committee hearings investigating whether GM knowingly delayed a recall and put the safety of drivers in danger.
The group timed their visit around the hearings to put a face on the recall investigation and those responsible accountable.
The recalls, which now total nearly 2.6 million cars, includes all model years of the Chevrolet Cobalt, Chevrolet HHR, Saturn Ion, Saturn Sky, Pontiac G5 and Pontiac Solstice made from 2003-2011.
The defect, caused by a weak ignition switch that can slip out of place, has been linked to at least 13 deaths.
Barra at the hearing hinted that GM may create a victims' compensation fund, announcing it has retained Kenneth Feinberg, who recently oversaw the BP oil spill fund, to explore responses to families of the victims.
Trautwine said such a fund would only "pamper the situation," and she would rather see the company's leaders held accountable.
Testifying before Congress, Barra said she could not give lawmakers many answers about why GM waited more than a decade to recall the faulty vehicles. She pointed to an ongoing internal investigation.
"When we have answers, we will be fully transparent with you, with our regulators, and with our customers," Barra told a House Energy and Commerce subcommittee on Tuesday afternoon.
Barra is due to appear before a Senate panel on Wednesday.
The parents gathered in Washington did not press Barra for answers but rather for action to prevent more loss of life.
The group met with Barra on Monday night at GM's Washington offices and took turns telling her how each of their children were lost. Every parent was in tears and Barra dabbed her eyes with a Kleenex, said Laura Christian, who lost her daughter Amber Rose in a 2005 Chevy Cobalt crash in Maryland in 2005.
Christian told Reuters the group pressed Barra to mandate that the recalled cars are taken off the road, but that Barra declined to do so and claimed that the cars were safe if driven with light key rings.
Cherie Sharkey of New York lost her son Michael Sharkey when his 2006 Chevy Cobalt crashed and burst into flames. At the press conference on Tuesday morning, she held a picture taken just before the 2012 accident of the two of them dancing and smiling." said sorry, but it wasn't enough," Sharkey said of her meeting with the CEO. "I look at this picture and I'm just completely not what I was anymore."
As the parents have put their stories in the public eye over the short two-day span in which Barra testifies, the group has gotten an up-close look at Washington-style public relations.
They have been rushed to meetings with members of Congress, live TV interviews, press conferences, congressional hearings, and closed-door meetings with government regulators.
Ken Rimer traveled from Wisconsin to honor his stepdaughter, Natasha Weigel, who died in a 2005 Chevy Cobalt crash in 2006. Before the trip, he told Reuters he didn't know "how Washington works" and that he expected "to get pushed around."
But Rimer said running from place to place and sharing their stories has brought the group some solidarity.
"For those who lose a child, it's a special club that no one wants to be a member of," said Rimer.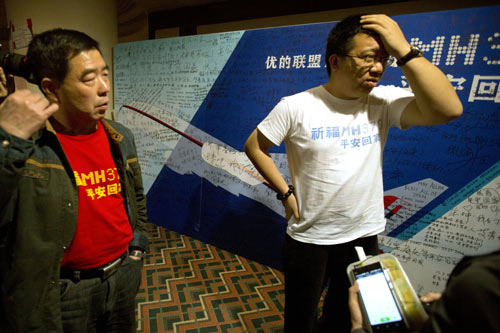 Steve Wang, a representative from the committee for relatives of Chinese passengers onboard the Malaysia Airlines MH370 talks to journalists after a closed door meeting with Malaysian officials via teleconference in Beijing, China. A Malaysian police investigation into the pilots of the missing Malaysian jet might turn up nothing, the force's chief said. while the head of the international search effort also acknowledged that an air hunt to spot wreckage on the surface of the southern Indian Ocean was not certain of success. The Chinese words on the t-shirts read 'Pray for MH370 safe return' (AP)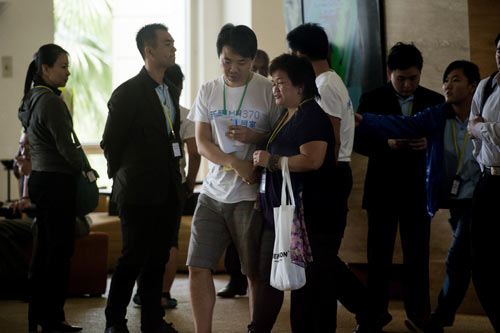 Relatives of the Chinese passengers onboard the missing Malaysia Airlines, MH370 embraces each other as they walk out after a close door meeting with the Malaysian officials at a hotel in Bangi, outskirts of Kuala Lumpur, Malaysia. Investigators are conducting a forensic examination of the final recorded conversation between ground control and the cockpit of Malaysia Airlines Flight 370 before it went missing three weeks ago, the Malaysian government said. (AP)