The government is losing $350 million each year on sales of spurious auto components on account of weaker intellectual proprietary rights (IPRs), high excise duty on genuine parts and low material and production cost of duplicate parts, says the Auto Component Manufacturers Association (Acma).
"Nearly 30-35% of the total aftermarket for components, pegged at $48 billion as compared to the $18 billion turnover of the auto component industry, is constituted by spurious or duplicate components. Since, these fake products, which have duty ranging from 20-25%, are sold while evading duties, there is a substantial revenue loss to the government," Acma vice-president Srivats Ram, said. According to Acma chairman (consumer affairs and anti counterfeiting) Soumitra Bhattacharya, Indian laws are stringent enough to combat counterfeiting of auto components but the enforcement of these laws is weak. "There is an urgent need to make it a non-bailable offence like the pharma industry," he added.
The association also hopes to increase the number of raids by two-three times in 2010 as against 160 raids in 2009 in seven states, including Punjab, Rajasthan, MP, Gujarat, Delhi and Orissa as a result of which 10,000 pieces of spurious components have been dismantled.
As per Acma, while the Trade Mark Act has been amended, there are still loopholes that allow spurious manufacturers to slip away from getting caught or from getting punished. The fine for spurious manufacture has been increased to Rs 2 lakhs and an imprisonment of three years. However, the procedures are such that it allows the counterfeiters to get away before the police reach the premises, it says.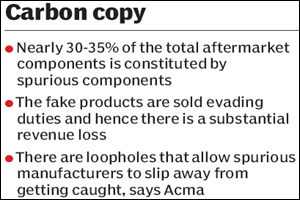 "The mandatory Automotive Industry Safety Standards (AIS) for the supply to OEMs is not required for parts sold in the domestic aftermarket. Hence, we are trying to persuade the concerned authorities to make the AIS standard mandatory for parts sold even in the aftermarket," Bhattacharya said. "The high excise duty on genuine parts gives direct margin to the spurious part maker, anywhere in the range of 20-22%, as they evade duty and this makes spurious activity even more attractive," he added.