NV Tiger Tyagarajan is a man on a mission. Unfazed by the challenging global economic outlook, the president and CEO of the $1.6 billion, 55,400-people strong Genpact surely knows the tricks and tools of the $14 billion Indian BPO industry. He has set his priorities right and is steering his venture beyond just being a BPO company by accelerating its analytics business, making inroads in the lucrative Chinese and European markets, and acquiring companies smartly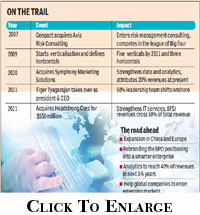 Industry circles might be abuzz with talks about private equity players Apax Partners and Bain Capital looking to acquire 41% in business process outsourcing (BPO) biggie Genpact, but it is business as usual on its work floors. NV Tiger Tyagarajan, who took over as the president and CEO of the countrys largest BPO firm a year ago, has been on his toes since then. Genpact is in a reshaping phase right now. I do not want Genpact to be known just as a BPO. We want to make enterprises smarter by using intelligence, technology, analytics and vertical expertise. We are also in a re-branding stage for our company, the Genpact flag-bearer stresses.
Top management in the company along with Tiger knows how this will happena strong focus on analytics business and smart decision services. Apart from this, Tiger considers Europe and China as the fastest growing markets for Genpact. He also wants Genpact to assist global businesses to enter emerging markets like India and China. Says Shantanu Ghosh, senior vice-president, practices, solutions and transitions, Genpact: We are now helping global giants to come and set up businesses in India by ideating strategies for them and helping them in end-to-end services. Which BPO does this Analysts feel that scale and speed are the two factors that are helping Genpact to reach the next level of not just being a BPO company.
The moot point is that Genpact did two benchmark acquisitions which are helping it to change its position among customers and competitors. In 2007, it acquired Axis Risk Consulting, a risk consulting firm. And last year it acquired the US IT services company Headstrong to enter the capital market business. Subhashis Nath, senior partner, executive director, Axis Risk Consulting Services, Genpact comments, After the Axis Risk Consulting acquisition in 2007, we entered a new set of competitors that is PwC, Ernst & Young, Deloitte and KPMG for this segment. Experts feel that to an extent it is a challenge for Genpact to compete with MNCs like IBM, Accenture and Capgemini in some areas, but the company has managed to do well after entering IT services business and concentrating on consulting as well.
The analytics push
Genpact made a smart decision services segment in 2009, which includes the analytics business, risk consulting and re-ingeneering services; some of it is the new kind of work that the company has been concentrating on. A look at the statistics: The $1 million-$5 million deals for Genpact have increased from 45 in 2011 to 57 this year. Tiger says, Analytics and smart decision services are the deals that start within $1 million-$5 million bracket and then grow over time. He explains that these deals often stretch to longer relationships ranging from $10 million-$25 million which include services like finance and accounting.
Pankaj Kulshreshtha who leads analytics and research practice globally at Genpact says, Revenues of analytics are now close to 20% of the total Genpact revenues. And we see them reaching 40% in the next three to five years as it is an important focus area. At present, banking, financial services and insurance (BFSI) is the biggest chunk in analytics comprising one-third of the business. Genpacts analytics and research segment has 5,000 people and the company has done two acquisitions in this spacemedia and business research firm EmPower Research last year and Symphony Marketing Services in the year prior to that.
Gaining geographies
The US is the biggest market for everybody, but BPOs must expand local presence beyond that and Genpact realises this. Tiger says, We have been growing better in Europe than in the US. Our European delivery is 10% of our business. We had done significant investment in Europe three years back at the front-end, which is now paying off. Genpact recently acquired Accounting Plaza in the retail industry domain in Europe.
Tiger says, Our fastest growing geography is China. Our fastest growing markets are China and Europe. And so reflects in the actions of the company also. Kulshreshtha informs, Though most of our headcount is concentrated in India, we are also expanding in China. We went there earlier this year and would be 200-people strong by the end of the year in China. We are also expanding in Europe. Kulshreshtha is confident about the fact that China has the same level of talent as India in research and analytics. Nath too notes, We have also expanded in China and the US in the last six months.
Maintain margins, increase scale
Shantanu Ghosh points out with pride, Over the last two years, our margins are not increasing, but scale is increasing. It is becoming very difficult for small players to survive in the BPO market. Especially when it comes to newer verticals like retail, pharmaceuticals and consumer packaged goodsthe mid-market players cannot compete with us. He notes that other players need to do acquisitions if they have to succeed.
A quick recap: the margins of Genpact were 17.8% in 2009 and have been flat at 16-16.5% for the last two years. The revenue projections too have been decent, but definitely the topline for the company has been growing at a phenomenal speedfrom $1 billion in 2009 to $1.6 billion in 2011. Analysts say that Genpact is one company which is constantly on the lookout for acquisitions and even Tiger believes the same: Acquisitions is the best way to add new capabilities that otherwise take time to build.
Genpact is clearly trying to change its image from just a BPO to an enterprise that makes businesses intelligent. It will be interesting to watch the new set of competitors the iconic BPO fights with, new customers it acquires and the mix of talent it hires to make rapid inroads in newer geographies.