Exports, which saw the steepest fall of 39.2% in May at the height of the global financial crisis, only contracted 6.6% in October. Commerce ministry will be looking at giving additional incentives to the needy sectors by the first week of December, said Commerce minister Anand Sharma while releasing revised exports data for October.
As opposed to earlier estimate of 11.4% dip, exports only contracted 6.6% in the month. In about seven months we have recovered considerably. While releasing the foreign trade policy in August, we were sure that the contraction in exports would decrease to single digits before the end of this year said commerce minister Anand Sharma.
The commerce ministry now expects to see growth in exports by December but estimates that cumulative exports in 2008-09 will remain in the negative territory. Experts feel that dip in exports will narrow in the coming months.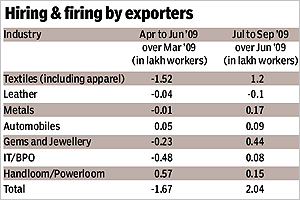 For the first time since the crisis, employment in Indian exporting units has gone up in the quarter from July to September 2009with as many as 2.03 lakh jobs added. This is in sharp contrast to the previous quarter when exporters laid off 1.67 lakh workers, as per a labour bureau report. Take for example the Gems and Jewellery sector, which has a share of 15% in the Indian exports basket.
Diamond polishing units in towns like Surat have put up boards saying that they require workers. Yet they are not getting people, says Vasant Mehta, chairman of the Export Promotion Council for Gems and Jewellery. The Christmas season sale will be very crucial for us, he added.
Though the expected export growth in the sector during 2009-10 does not look encouragingabout five percentage points more than the 15% increase recorded in 2008-09- Mehta maintains that the expansion will be in the backdrop of an overall decrease in Indias cumulative merchandise exports. In the second quarter, the Gems and Jewellery sector added 44,000 jobs, the labour bureau survey noted.
Trade experts link the growth in jobs to traction in exports. For the festival season in December, export orders are booked in advance. The increase in employment in sectors like textile seems to be because of this, said KT Chacko, director of Indian Institute of Foreign Trade, and former director general of foreign trade. The rate of decline in exports is coming down and we should hopefully see some growth in the last quarter of 2009-10, he added.
The labour intensive power loom sector is also seeing a surge in demand, both from overseas buyers and domestic garments manufacturers engaged in exports. Last three months have been very good. But due to long power cuts and 30-40% increase in yarn prices, supply is suffering, said MS Mathivanan, chairman of Powerloom Export Promotion Council. The sector, along with handlooms added 15,000 jobs in the three months ended September.
But the signals from the garments and apparel sector are confusing. While exporters maintain that order books look comfortable, they point out that exports have nose dived. In October, exports contacted 18%. We have not seen any increase in employment, said Rakesh Vaid of Gurgaon based Usha Fabs and chairman of Apparel Export Promotion Council. The latest government statistics suggest that the textiles sector added over a lakh jobs - highest for any sector- in the second quarter. But Vaid agreed that order books of the sector for the coming months look encouraging.
But other exporters have a different story to tell. Though I do not know about the basis of the labour ministry figures, I can say that there is an uptick in orders and exports, because of which we are seeing more people being taken in, said Ganesh Kumar Gupta, chairman of Mumbai-based Vijay Silk House.
A Sakthivel, chairman of Federation of Indian Export Organisations, agrees. Christmas orders have gone. As the contraction in exports started decreasing, export houses needed manpower to process orders, he said.