With exports not growing at the expected pace, India could miss its target of achieving 20% growth this year and then doubling it to $500 billion by 2014. Exports have declined for the fourth consecutive month this year. According to officials, the commerce ministry is analysing the trend in the exports of various items to the country's major trading partners so that a proactive policy can be framed to give the slowing sector a boost.
Though there are challenges (in achieving the export target), we will see if a revision (of the target) is required by the end of this year, a ministry official said.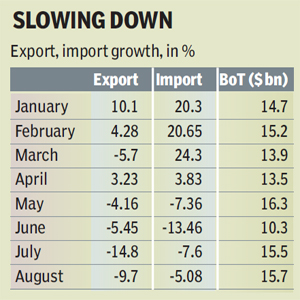 Another official added that the countrys strength is in service exports and that could come handy to offset the impact of any slippage in goods exports and prevent the current account deficit from widening too much. This year, the highest growth in exports was 10.1% reported in January, while July registered the steepest fall at 14.8% due to a demand slowdown in the US and Europe.
A fall in exports of engineering goods, petroleum products and gems and jewelery, along with a demand slowdown in the US and Europe, pulled India's exports growth down by 9.7 % year-on-year to $22.3 billion in August, compared to $24.7 billion a year ago. Exports have dipped continuously in four of the last five months.
During the first five months of the current fiscal, imports contracted by 6.2 % to $ 191.1 billion. Gold imports almost halved in the period. Trade deficit during the same time stood at $ 71.1 billion.
We need to devise ways of streamlining exports by revisiting the various focussed market programmes and a careful examination of where the opportunities are to stimulate exports there, said Biswajit Dhar, director-general of the Delhi-based Research and Information System for Developing Countries, adding that instead of offering more sops, the government should find markets where cost of doing business can be reduced.
According to Ajay Sahai, DG, Federation of Indian Export Organisations (FIEO), the Eurozone is in crisis and this has impacted the country's exports that are in price sensitive segments.
The July-September quarter will be critical to see the direction of our exports, he said.
Incidentally, there are 18 countries whose merchandise imports in 2010 were more than $200 billion but Indias market share in their total exports is a meagre 1%. The exercise initiated is aimed at add in another $50 billion to the country's exports.
Experts also said that instead of focussing on emerging markets such as Africa and Latin America, the government must increase its exports to the already established economies.
The outgo to these countries is huge, but the government is not taking a call on this. In fact, the finance ministry has asked for a report on this by the next week, an official said.