With Europe and Gulf countries, putting in place stringent safety norms for ensuring that pesticide residue in agricultural crops remain below prescribed limits, basmati (aromatic rice) exporters from India have urged the Union agriculture ministry to ensure that farmers use less pesticide.
Europe and Gulf nations are main export destinations for Indian basmati rice.
In a letter to agriculture ministry, Vijay Setia, president, All India Rice Exporters? Association has said that some pesticide manufacturers are not giving correct and complete advise to farmers about proper use of chemicals to push their products for indiscriminate use.
Setia has requested the agriculture ministry to ensure that pesticide manufacturers must ensure that every package of the chemical is accompanied by an advisory and also should contain quantities to be used for recommended crops, the method and timing of use.
The letter from basmati exporters comes at a time when a huge consignment of basmati rice exported from India was held up in European ports for inspection to ensure that it doesn?t contain pesticides beyond minimum residue limit.
?Although no consignment has been rejected yet, but we would like to put in all precautions for ensuring quality of the aromatic rice,? Setia said.
Earlier, even Iran had temporarily halted the import of basmati rice after few samples which were tested allegedly contained higher pesticide residue levels which was however later contested by rice exporters.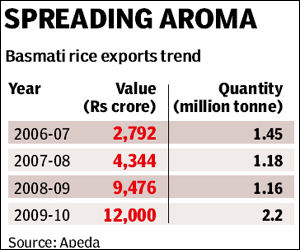 Iranian state-owned laboratory, Standard Institute of Industrial Research had claimed that Indian rice contained arsenic, lead and cadmium and did not have nutrition value. Later though the Iranian government gave a clean chit to basmati rice imports from India.
Iran had emerged as one of biggest export markets for Indian basmati rice in the last two years, with close to 40% of the country?s exports totaling around 2.2 million tonne being sold to that country.
Meanwhile, basmati rice from India has been removed from an European Union list of food imports subject to heightened scrutiny while some herbs and spices from Thailand has been added, Brussels said in a recent updates.
The EU had introduced new measures at the start of this year to step up border controls on a range of foods of non-animal origin in a bid to boost food safety in the region. Basmati rice exports crossed 2 million tonne largely because of bumper local harvest and strong demand from Gulf countries, particularly for the newly classified PUSA 1121 variety.
According to the Agricultural and Processed Food Products Export Development Authority (Apeda), exports of the premium aromatic rice increased by 44% in 2009-10 in comparison to 1.6 million tonne in 2008-09. In value terms, export of basmati rice has crossed Rs 12,000 crore in 2009-10 as against Rs 9,476 crore achieved during 2008-09.