The Dubai debt crisis may have mauled global equity markets, but Indian exporters are putting on a brave face. The confidence of firms selling goods to the United Arab Emirates (UAE), which became the biggest destination for Indian goods in 2008-09, stems from the fact that their exports are primarily for transhipment to other markets.
In a worst-case scenario, exporters expect changes in the way financial transactions are carried out while finalising deals with firms based in the UAE, which accounted for over 13% ($24 billion) of Indias exports in 2008-09. Exporters with a large exposure to Dubai maintain they were aware of the problems faced by realty giants Dubai World and Nakheel.
The development is public today. But were knew of it for a while. It is the increase in gold prices that is really biting us as sales have slowed, said Kunal Joshi of Modern Impex, a Mumbai-based jewellery-exporting firm.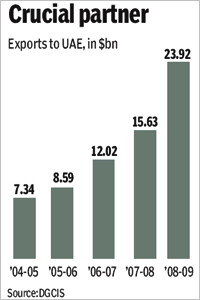 Agrees Sabyasachi Ray, executive director of Gems & Jewellery Export Promotion Council. It is not that all hell will break loose. The problems in Dubai are not new, he added. Precious stones, gems and jewellery comprise over 44 % of the Indian export basket to UAE.
Construction machinery demand in Dubai was already weak for the past one year. But the re-export markets are largely unaffected, said Engineering Export Promotion Council chairman Aman Chadha.
Joshi, Chadha and their peers from other sectors are confident of business prospects in Dubai because the UAE is one of the largest transit points for global merchandise consignments. Goods from seaports in the emirates, including Dubai, head for North African nations, the Middle East, Russia and East European countries.
Commerce minister Anand Sharma also sought to allay fears arising from developments in Dubai. I do not think some development in the Dubais real estate sector will impact us. The fundamentals in India are strong. I hope Indias exports to the UAE will not be impacted, Sharma said before leaving for Geneva to attend the seventh ministerial meeting of the World Trade Organisation.
Trade experts also maintain that unless the crisis spreads to banks based in Dubai, there is nothing to fear. One concern is that Indian banks may not recognise letter of credits of Dubai-based banks suspected of being impacted by the credit crisis. At the most, payments from destination countries may come directly to India, instead of being routed through Dubai, said Federation of Indian Export Organisations director-general Ajay Sahai.
Joshi seconded that, saying, We would look for letter of credits of reputed international banks that are not headquartered in Dubai.
The engineering sector, which manufactures construction and other industrial machinery, is also not developing chills. One may see an increase in the insurance premium for exports to Dubai. At the same time, engineering exporters may drop the 90-120 day credit window for sales to Dubai-based firms and ask for reliable letters of credits, Chadha said.