The excessive cost of liquidity kept net profit at the countrys largest lender, State Bank of India (SBI), flat at Rs 2,479 crore in the October-December quarter against Rs 2,478 crore in the same period last year.
Though we excelled other banks in all parameters, it is not reflected in the net profit, as we had huge surplus liquidity of Rs 75,000 crore, whose opportunity cost would be over Rs 600 crore, said SBI chairman OP Bhatt.
Income from resource operations were up 11.81% in the period, as surplus liquidity remained a concern, he said. The bank's surplus liquidity on average yielded just 4.77% in the reporting quarter, compared with the Rs 52,985 crore that yielded 7.53% a year earlier. Excess liquidity peaked at Rs 1,08,652 crore in Q1 FY10.
Also, investing a portion of excess liquidity in SLR resulted in additional mark-to-market losses of Rs 45 crore. Provisions also include Rs 246 crore for MTM losses in the bond portfolio during the reporting quarter, compared with a writeback of Rs 342 crore in the corresponding period of the previous year.
With gross NPAs at 3.11% and net NPAs at 1.88%, the bank has seen fresh NPAs up by Rs 1,485 crore in the quarter.
At the operating profit level, the bank showed a 3.02% increase over the corresponding period of the previous year. However, loan loss provision in Q3 FY10 was at Rs 444 crore, against Rs 515 crore in Q3 FY09.
The bank saw business growth of Rs 1,75,644 crore at the end of Q3, including deposits of Rs 78,063 crore and advances of Rs 97,581 crore. The banks net interest income increased 9.69% over the previous year. The credit-deposit ratio increased from 67.59% to 71.48%, while net interest margin, which declined from 3.10% in Q3 FY09 to 2.30% in Q1 FY10, moved up to 2.82% in Q3 FY10.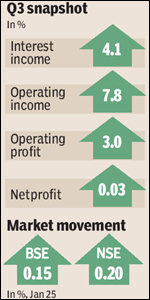 The banks core fee income rose 36% at Rs 581 crore. However, other income was muted by a decline in profits on the sale of investments to the tune of Rs 237 crore and miscellaneous other income (Rs 256 crore).
Deposits of the bank went up by Rs 78,063 crore, despite shedding bulk deposits of Rs 72,802 crore, resulting in a y-on-y growth of 11.26%, from Rs 6,92,922 crore in Dec 08 to Rs 7,70,985 in Dec 09. The Casa ratio as was up 636 bps at 42.94% from 36.58%.
SBIs deposit marketshare in Dec 09 at 16.76% declined 75 bps, while marketshare in low-cost demand deposits at 15.35% was up 16 bps. Gross advances in Q3 FY10 were up 19.15%.
Marketshare of advances in December 09 was at 16.88%, an increase of 76 bps. The bank has seen its home loans grow by 29.26%, or an average of Rs 1,643 crore per month--the highest in the industry. With this, the bank has become industry leader in terms of disbursement of home loans.