European confidence in the economic outlook rose to the highest in more than two years in July and German unemployment declined for the 13th straight month as an export-led recovery gathers strength.
An index of executive and consumer sentiment in the 16 euro nations rose to 101.3 from 99 in June, the European Commission in Brussels said on Thursday. Thats the highest since March 2008. The number of people out of work in Germany fell a seasonally adjusted 20,000 to 3.21 million, the Federal Labor Agency in Nuremberg said in a separate report. Thats the lowest since November 2008.
Europes economic prospects, dented by the Greece-led budget crisis, are improving as companies from German bank Deutsche Bank AG to French luxury-goods maker LVMH Moet Hennessy Louis Vouitton SA beat analysts earnings estimates. Growth in Europes services and manufacturing industries accelerated in July and Peter Loescher, chief executive officer of Siemens AG said on Thursday he sees a clear stabilisation and a recovery of the global economy.
Theres a good chance that the economy will be able to maintain its growth momentum, said David Kohl, deputy chief economist at Julius Baer Holding AG in Frankfurt. I dont see any major threats or headwinds at the moment.
The euro was little changed after the confidence report. Earlier, it rose to the highest since governments announced a May 10 package to stop the sovereign debt crisis and climbed as high as 0.6% to $1.3078. The euro has gained 6.8% against the dollar this month.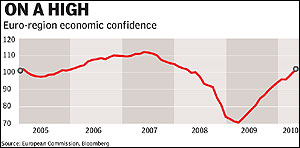 Economists had forecast economic confidence to increase to 99.1 in July, according to the median of 26 estimates in a Bloomberg News survey. In Germany, the adjusted jobless rate fell to 7.6% from 7.7%.
The commissions index is based on a survey of 130,000 managers and 40,000 consumers conducted in the months first two weeks. A gauge of confidence among consumers rose to minus 14 in July from minus 17 in June, the commission report showed. Manufacturing sentiment rose to minus 4 from minus 6, while confidence among services companies rose to 6 from 4.
The euros 9% drop against the dollar this year has helped boost export growth by making European goods more competitive abroad. Manufacturers capacity utilisation rose to 77.4% in the third quarter from 75.5% in the previous three months, the commission said in Thursdays report. Thats the highest since the fourth quarter of 2008. A gauge measuring euro-area manufacturers expectations in their export orders rose to minus 22 from minus 25 and an indicator of employment expectations also increased. A gauge of overall order books gained to minus 21 from minus 26.
In Italy, business sentiment also increased in July, the Isae Institute in Rome said on Thursday. German business confidence unexpectedly surged to a three-year high this month and the number of French jobseekers declined in June. French finance minister Christine Lagarde said she sees a serious pick-up in global growth next year led by faster- growing economies including China and India.
Still, exporters may struggle to maintain their sales growth as the global recovery shows signs of losing momentum. Chinas economic expansion slowed in the second quarter and industrial production cooled more than economists forecast in June.