The euro zone debt crisis is looming over the countrys leather industry in general and exporters in particular as small players, who constitute majority of leather exporters, are exposed to the vagaries of currency fluctuation.
Currency fluctuation leading to the appreciation of rupee against euro would bring down margins for these players making it difficult for them to remain viable. Most of these players, especially small leather manufacturers, do not have the financial strength to hedge against currency risks.
According to an industry insider, leather industry had been performing well until the global economic recession in 2008. Though leather exports did not register a negative growth, exports both in rupee and value terms fell short of target. The leather exports touched $3,598.64 million in 2008-09, up 1.4%, as against $3,548.51 million in 2007-08.
Post-meltdown the leather industry was just picking up pace when it again hit a road block due to the debt crisis in the euro zone. The euro zone crisis impact would be huge as European Union (EU) is the largest importer of the products. EU accounts for nearly 62-65% of the overall leather exports from the country. A leading leather exporter told FE, The appreciation of rupee against euro and other currencies is bound to hit the leather industry.
According to the provisional figures published by a leading industry organisations, overall leather exports registered a negative growth of 8.99% to $3,289.94 million from April 2009 to March 2010 compared to the corresponding period previous year. However, leather garments rose from $426.74 million to $429.85 million for the year ended March 31, 2010.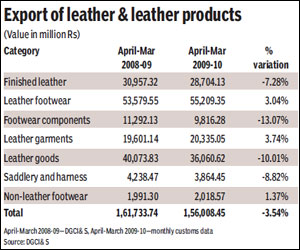 Finished leather exports witnessed a fall by 11.56% to $605.66 million during the period under review. Leather footwear declined by 6.20% to $11,63.12 million; footwear components plunged by 17.34% to $206.71 million and leather goods stood at $760.56 million, down 13.22%.
According to industry sources, the EU and the US together account for nearly 76% of the overall leather exports from the country. Any small change in business in these markets will have serious implications. Feeling the heat of the euro currency situation, some of the exporters tried to negotiate with buyers for having a dollar agreement deal but it never worked, another exporter said.
It is not going to be easy to convince the buyer to go in for a dollar agreement as Europe prefer to deal with their currency only, said a government official, adding dollar was fluctuating earlier but it seems to have stabilised now.