The rupee closed at 56.23 to the dollar on Wednesday, a new lifetime close for the Indian currency, as oil importers queued up for dollars to meet month-end payments and the euro neared two-year lows reflecting tensions ahead of Greek elections. The currency lost 56 paise or 1%.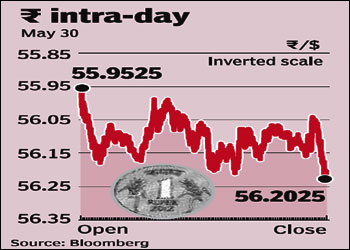 Meanwhile, the dollex rose in intra-day trades to a new 20-month high of 82.76. A rise in risk aversion globally has resulted in a flight from high-yielding currencies such as the euro and Asian currencies.
The Reserve Bank of India (RBI) is said to have intervened, albeit only in small measure. What has exacerbated the rupee's fall is weak domestic factors and the resultant repatriation of dollars by foreign investors, treasury officials said. The dollar's rally against the rupee will be sharper than other currencies because of fundamental problems, said Moses Harding, head of research and asset liability management at IndusInd Bank. Harding expects rupee to be in 55.50-58.50 range in the coming days. The big currency fall of the last few weeks has prompted exporters to wait while importers have used every opportunity to buy dollars.
There is panic-buying among importers. Month-end demand is also making things worse, said the chief foreign exchange dealer at a state-owned bank.
Foreign institutional investors (FIIs) have sold $178.71 million worth of shares so far in May but have bought $647 million worth of bonds. FIIs have sold stocks and bonds worth $779 million in April.
On Tuesday, the finance ministry announced measures to boost dollar inflows, easing norms for qualified institutional investors (QFI) by allowing them to buy corporate bonds up to a limit of $1 billion. Dealers said the move had little impact on the currency as these may not result in immediate dollar flows. QFIs have not used the limits under investments in debt schemes of mutual fund and may not be inclined to invest in corporate bonds either, dealers said.
Concerns over the widening current account and fiscal deficits, the government's perceived lack of flexibility and constraints in going ahead with reforms and high inflation have turned the sentiment highly bearish for the economy and the currency, treasury officials said. India's current account deficit ballooned to 4.1% of GDP in October-December, while flows to the capital account were far less than that required for financing the gap.
Fears that the GDP growth for 2011-12 could be worse than expected has only added to the currency's woes. Forecasts by economists show that GDP for January-March period could be 6.1% and 6.3% for 2011-12.
India's story has likely de-rated. All of this is reflected in S&Ps recent sovereign outlook downgrade of India from stable to negative, said Citigroup in a note. While the economic milieu is potent for further depreciation of the rupee, more aggressive dollar sales by the RBI could prevent it, dealers said.