Due to various energy conservation measures, Haryana has been able to save about 1,161 million units of electricity in the year 2009-10. This effort has been lauded by the Centre with Haryana becoming the only state to bag the first national award in the energy conservation programme for the third consecutive year.
The state government had formulated a five-year state energy conservation action plan in December 2007 aiming to achieve energy savings of 500 mw through energy conservation and energy efficiency measures.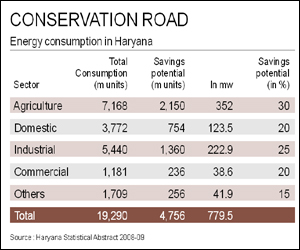 A senior official of the state renewable energy department told FE, The energy conservation programmes have been given a push by the state government via a state energy conservation fund created earlier this year. Th e fund shall be utilised for awareness, capacity building, research and development, creation of testing and certification procedures and demonstration projects on energy conservation.
He informed that the state government has made a contribution of Rs 445 lakh for 2009-10 and 2010-11 and the Bureau of Energy Efficiency (BEE), Union ministry of power has contributed Rs 2 crore towards the fund as first installment for 2010-11. The fund would be utilised for preliminary survey and identification of potential industries/buildings and utilities.
Moreover Haryana Renewable Energy Development Agency (HAREDA) plans to take up few representative industries for demonstration projects for waste heat recovery. Financial assistance shall also be provided for energy audits in industries, commercial establishment, government buildings and utilities etc to implement the energy audit reports for energy conservation, he said.
Energy audit of 10 government buildings indicates a potential energy saving of 26,484 kwh per year in the state. Energy audit of Haryana Raj Bhawan has been completed and implemented resulting in saving of 1.20 lakh units of electricity amounting to Rs 3.60 lakh with an investment of Rs.16.16 lakh. Energy audit of CM residence is complete and is under implementation . HAREDA has also initiated the energy audit of 25 more central government buildings and six largest mandis of the Haryana State Agriculture Marketing Board at Karnal, Kaithal, Sirsa, Hisar, Kurukshetra and Fatehabad. Mandis witnessed great post-harvest activity specially after harvesting and have a potential of about 30% energy saving in lighting.
As far as state power utilities are concerned there has been a substantial reduction in coal consumption in the power plants.
During 2009-10, the specific coal consumption in Haryana Power Generation Corporations generation stations improved from 712 gm per unit to 706 gm per unit thereby saving 90,000 tonne of coal contributing to equivalent energy saving of 127.47 million units annually.
The specific oil consumption in HPGCL generating stations improved from 2.87 ml to 1.61 ml per unit thereby, saving 18,745 kl of oil contributing to equivalent energy savings of 74.98 million units annually.