Emerging-market equity funds inflows tripled last week as the outlook improved for developing-nation exporters, EPFR Global said.
The funds attracted $1.7 billion in the week ended December 23 from $571.4 million in the previous week, EPFR said in a statement. That added to a record $80.3 billion of investments in emerging-market stock funds so far this year, compared with outflows of $48 billion in the same period in 2008, EPFR said.
The MSCI Emerging Markets Index has rallied 73% this year, set for its best annual performance. Developing nations were the 10 best-performing markets this year as stimulus measures from China to Brazil helped bolster a recovery in economic growth. The gauge slid 0.1% to 979.98 at 7:03 pm in Singapore, snapping a five-day advance.
This years inflows are way off the charts, Brad Durham, managing director at the Cambridge, Massachusetts-based EPFR, said in a Bloomberg Television interview. There will be some vulnerability in the first part of the year, just given that emerging market indices have performed so strongly.
The Shanghai Composite Index added 0.7% to a two- week high, and the Bombay Stock Exchanges Sensitive Index advanced for a fourth day, its longest winning streak in seven weeks.
Oil producing nations also gained among emerging market stocks, with Abu Dhabis ADX General Index advancing 0.5%, the Nigerian Stock Exchange All Share Index rising 0.7% and Omans MSM 30 Index climbing 1.6%. Russias Micex Index fell less than 0.1%.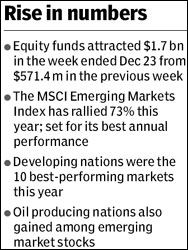 Investors may add more money into emerging-market funds in 2010 as they look for earnings per share growth of between 28 and 40%, he said. Funds investing in China took in $153 million in the week ended December 23, while those that focus on all the so-called BRIC nations received $451 million, according to the statement.
Flows into global emerging-market equity funds surged as the outlook for exporters in emerging markets improved with better data from the US economy and as the US Federal Reserve kept interest rates on hold, EPFR said.
Emerging-market bond funds attracted $369 million of inflows last week, EPFR said, taking the tally to more than $8 billion this year. The record for this fund group was set in 2005 when they absorbed $9.7 billion, according to data compiled by fund tracker.
Investors demanded a yield premium of 2.76 percentage points over US Treasuries to buy emerging-market sovereign debt, according to JPMorgan Chase & Cos EMBI+ Index. The spread fell for a third day to the least since July 2008.