In several El Nino years, rains & food output did not suffer majorly. PTI
ONLY a severe El Nino can materially impact Indias monsoon rains and hit grain production, historical patterns suggest. Most observers, however, believe the expected El Nino wont be a grim one.
El Nino is a weather phenomenon where surface temperatures in the Pacific Ocean rise above average for several months, which happens with irregular periodicity. It is associated with changes in wind patterns and is known to impact weather in many parts of the world, including in India.
All drought years in India since 1980 have been El Nino years, but all El Nino years havent necessarily been drought years. The emerging El Nino does point to a likely sub-normal rainfall, though much would depend on what happens in the coming two months, Ashok Gulati, chair professor (agriculture) at Indian Council for Research on International Economic Relations, told FE.
El Nino does impact the Indian monsoon, but empirical data suggest in a number of years, rains have been normal despite its presence. Improved irrigation and dispersed production have averted a crash in grain output in most El Nino years. Surplus foodgrain stocks too have helped cushion its impact. Among recent El Nino episodes, monsoon and grain production were affected in 2002 and 2009, but production did not suffer significantly in 2010.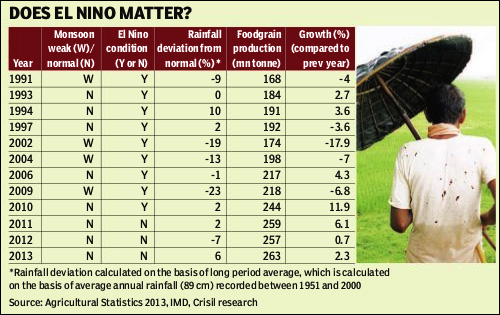 The impact of El Nino usually remains for nine to 24 months.
In 2002, Indias foodgrain production fell by close to 18% compared to the previous year, with 19% monsoon deficiency when gauged against the Long Period Average (LPA).
However, 2009 saw a fall in foodgrain output of only 6.8% even as rains were deficient by a huge 23% of the LPA. LPA is calculated on the basis of the average annual rainfall (89 cm) recorded between 1951 and 2000.
In 2010, interestingly, despite the presence of El Nino, rains were normal and grain output rose by close to 12% over the previous year.
According to private weather analysis agency Skymet, there is only a 30% chance of (El Nino) phenomenon getting stronger. If this El Nino was amplifying, then there would be a stronger chance of drought, like in 2009. This does not seem to be the case at this point in time. Skymet has predicted a below normal monsoon.
Gulati said since the country has ample stocks of cereals and the north-western region is largely irrigated, the real worry is about the western region where oilseeds, pulses and cotton are less irrigated. An agriculture ministry official said with the irrigation facilities available in more than 40% of the farm lands in the country, the role of deficient monsoon on crop has also somewhat diminished.
As on April 1, the government agencies had food grain stocks in excess of 48 million tonne (mt) against the buffer stock and strategic reserve norm of 21 mt. Food Corporation of India (FCI) and state government-owned agencies have 17.8 mt of wheat and 20 mt of rice in their stores while another 10 mt of rice is lying with the millers. As the wheat procurement drive for 2014-15 season has just commenced, the governments food grain stocks are expected to rise sharply in next few months, sources said.
There is now a reduced chance for a sharp fall in grain production, thanks also to resilient district-level contingency plans, Ramesh Chand, director, National Centre for Agricultural Economics and Policy Research (NCAP) said. He, however, cautioned that although the country has sufficient stocks of cereals, there are commodities such as oilseeds (edible oil) and pulses where the demand is also met through imports.