The wholesale prices of key edible oils like mustard, groundnut, soyabean, sunflower and palmolein have risen sharply in the last few years due to rising domestic demand and inadequate oilseed production.
The biggest rise in domestic wholesale price is seen in groundnut oil, where the price has increased by more than 60% since 2008.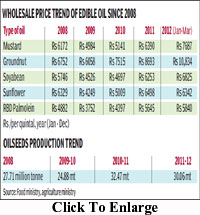 According to the food ministry data, the wholesale prices of mustard oil, soyabean oil and RBD palmolein have risen 24%, 18% and 19%, respectively.
After a decline in prices of edible oils in 2009, the prices have been rising because of global prices and inadequate oilseed production, minister for food and public distribution KV Thomas said.
The food ministrys assessment says that during the last three years, global prices of major edible oils such as crude palm oil, soyabean oil, sunflower oil and RB palmolein have increased by 63%, 59%, 49% and 48%, respectively.
On the production front, the country is far from achieving self-sufficiency because of rising demand.
There is a gap between demand and supply of edible oils in the country and about half of the demand of edible oils is met through imports, Thomas said.
The food ministrys analysis says the prices of edible oils rose sharply in 2008, and then declined in the subsequent year. Since 2010, the price of all major edible oils has risen by more than 25%, attributed mainly to a rise in global crude price and a sharp increase in domestic demand.
According to FE analysis, the retail price of refined soyabean oil has risen to between R80 and R85 a litre from R60 a litre in 2009. Even the price of mustard oil has moved to R105 per kg from R85 per kg a year back.
Recently, the US Department of Agriculture had announced that Indias vegetable oil consumption is expected to be around 17.1 million tonne (mt), while production is expected around 7.3 mt.
In the current year, India is likely to import 7.6 mt of palm oil, 1.1 mt of soybean oil, 1 mt of sunflower oil and 10,000 tonne of other edible oils, mainly from Indonesia and Malaysia
In a bid to stem the rise in edible oil prices, the government has reduced import duties on crude and refined edible oils to 7.5%.
Besides, the export of edible oils has been banned except for coconut oil, oil sourced from minor forest produce and branded oils in small consumer packs within quantitative limits.