Torsten Jeworrek, Munich Re Board member responsible for global reinsurance business, has said there has been a marked increase in major natural catastrophes worldwide since 1950.
Economic losses from catastrophes in the period since 1980 totalled approximately $1,600 billion (in original values). Climate change probably already accounts for a significant share. In the light of these facts, it is very disappointing that no breakthrough was achieved at the Copenhagen climate summit in December 2009.
We need an agreement that significantly reduces greenhouse gas emissions because the climate reacts slowly and what we fail to do now will have a bearing for decades to come, he said.
Consequently, Munich Re will now drive forward its own initiatives with even greater commitmentinvestments of up to 2 billion in renewable energy, for instance, or the Desertec desert-power project.
We will do our utmost to ensure that DII GmbH, the Desertec project planning entity, can put forward finished plans in the next three years. Munich Re will, of course, also be involved in their implementation as an investor and insurer, Jeworrek added.
However, natural catastrophe losses were far less in 2009 as against 2008 due to the absence on the whole of major catastrophes and a very benign North Atlantic hurricane season.
Total number of destructive natural hazard events was above the long-term average, at 850. Consequently, despite the lack of really disastrous events, there were substantial economic losses of $50 billion and insured losses amounted to $22 billion compared with $200 billion and $50 billion, respectively, in the previous year.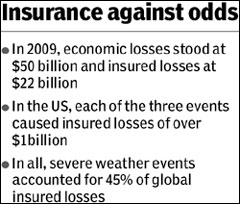 By way of further comparison, the average number of hazardous events with relevant losses over the past 10 years was approximately 770 per annum. Economic losses came to around $115 billion on average and insured losses $36 billion.
However, we should make no mistake despite the lack of severe hurricanes and other megacatastrophes, there was a large number of moderately severe natural catastrophes. In particular, the trend towards an increase in weather-related catastrophes continues, whilst there has fundamentally been no change in the risk of geophysical events such as earthquakes, said professor Peter Hppe, head of Munich Res Geo Risks Research.
What is noticeable about the 2009 loss statistics is the high level of individual severe-weather losses in the USA, three events alone each causing insured losses of over $1billion. In all, severe weather events accounted for 45% of global insured losses. In the USA, losses due to heavy thunderstorms accompanied by hail, torrential rain or tornados rose from $ 4 billion to $ 10 billion a year on average, taking inflation into account. Initial analyses indicate that apart from socio-economic factors, this is already due in part to climate change, Hppe said.