The Kerala government is making last attempt to salvage its partnership with Dubai Commerce Technology and Media Free Zone Authority (Tecom) for the $333-million Smartcity project in Kochi.
The state government has written to its estranged investment partner, Tecom, if it intended to go ahead with the construction activity at the Smartcity site in Kochi. Sources said the state would be forced to turn to other options if th Tecom doesnt reply with in 15 days.
In any case, the state will wait 15 days for Tecoms reply to the letter, before rushing to any other course of action, top sources in government told FE. State government claims that it has a couple of major investors on cue, including a well-known US firm.
A meeting of the board of directors in Kochi on May 29 had failed to melt the ice between Tecom CEO Fareed Abdul Rehman and Smartcity chairman and kerala minister S Sarma. Advocate General has also counselled Kerala government not to agree to give freehold within the project, with resale option.
Continued rounds of psychological warfare between the Dubai Investor and Kerala government has the entire IT industry worried. Infosys CEO Kris Gopalakrishnan does not hesitate to say that the Smartcity spat was an issue Keralas emerging IT industry could have done without. The disputes over details should have been sorted out earlier, he said.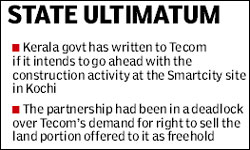 Group of Technology Companies (GTEC) in Kerala said the spat could send wrong signals to other investors. Consider the opportunity loss, as Tecom could have brought big global players operating out of Internet City in Dubai to Indian terrain, says VK Mathews, GTEC president and chairman, IBS Solutions.
The partnership had been in a deadlock over Tecoms demand for right to sell the land portion offered to it as freehold. Both Tecom and Kerala government are keen to get Special Economic Zone (SEZ) status for the entire 240 acres, which makes demand for resaleable freehold portion difficult.
Chief minister VS Achuthanandan had also alleged that the Dubai investor was trying to wriggle out of the project, because it was hit by the global financial downturn. Tecom Investments is a subsidiary of Dubai Holding, a global behemoth, spreading its money on knowledge industries.
At the same time, Dubai Tecom authorities, who visited Kochi for the May 29 meeting, expressed optimism on the future of Smartcity. We had never informed Kerala Government about quitting the project. Delay in the commissioning of the project was not connected with any financial problem, said Tecom CEO Fareed Abdul Rahman, earlier this month. In fact, the Dubai company is awaiting invitation from the state for talk to clear the air.
Kerala government-sponsored IT parks, Technopark, Technocity, Infopark and Cyberpark are on capacity-expansion mode, mopping up the potential IT investor in the proposed Smartcity with their facilities.