A few states have reduced their reliance on rains for farming, but it is too early to declare the Indian economy immune to drought.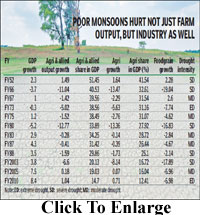 Even though the share of agriculture in the gross domestic product (GDP) has steadily fallen to a little more than 12% from 43% in the mid-1950s, bad monsoons continue to hurt not just farm output but to an extent industry and the broader economy as more than half of the population still depends on agriculture and allied activities.
According to data collated by FE, growth slowed or fell in 9 of the 12 drought years since Independence. In three drought years 1966, 1986 and 2009 GDP growth did not fall but stagnated or rose at a slower rate as higher growth in industry and services offset the adverse impact of the decline in farm output.
As the country enters its 65th year of Independence, millions of farmers in northern and western India are still gazing at the sky on the hope that the monsoon may finally revive and they can deliver a modest harvest at least.
Monsoon so far has been 15% below the long-term average with a drought-like situation prevailing in many parts of northern and western India, posing the risk of escalating food prices and shaving off growth by as much as 0.8 percentage points. Agriculture minister Sharad Pawar said in Lok Sabha on Tuesday that Karnataka and Rajasthan have declared drought in 142 out of 176 taluks and in 5 out of 33 districts in states.
In 2009, an extreme drought withered summer crop (kharif) and despite a robust winter crop (rabi), foodgrain output was down 7%. However, crop diversification and allied activities helped the farm sector post a measly 1% growth. GDP, however, rebounded with 8.4% growth from 6.7% in the Lehman crisis year as industry roared on the back of fiscal and monetary stimulus and favourable statistical base effect.
In 1986-87, growth was flat at 4.3% compared with 4.2% of the previous year despite a moderate drought, while GDP rose 1% in 1966 compared with a 3.7% decline in the previous year mainly due to the base effect.
The extent of damage of a dry spell has been higher on GDP in earlier decades as most parts of arable land had to depend primarily on rain-fed water.
Of course, some headway has been made on the irrigation front. Key wheat-producing regions such as Punjab, Haryana and western Uttar Pradesh are more than 80% irrigated while the second-biggest wheat producer Madhya Pradesh has been implementing irrigation expansion programme in the last couple of years. Out of the main rice-producing states, only Andhra Pradesh, Punjab and Haryana are significantly irrigated. Other rice producers like Orissa, Chhattisgarh and Jharkhand continue to have most of the cultivable areas rainfed.
With the increase in irrigation network, monsoon dependence has come down in more than a third of the countrys farm land. But we still have miles to go.
Citi rightly pointed out that the economy is not yet water-proof despite the changing composition of GDP and mitigating factors such as NREGA, growing share of winter crop, use of gold as a collateral. Agriculture employs about 50% of the workforce. Only 36% of Indias land area is irrigated. Rainfall correlation with agriculture is 0.63 and private consumption 0.4, Citi economist Rohini Malkani said in a recent report. For instance, GDP fell 0.3% during 1972-73 when extreme drought scorched the country and rainfall was just 67 cm.
During the five years when India witnessed severe drought, GDP either fell or slowed. During 1965-66, it fell 3.7% compared with 7.6% growth of previous years, while it fell by 5.2% 1979-80 from the 5.5% in previous year. During 1987-88, the economy slowed to 3.5% from 4.3% in previous year while it settled at 3.8% in 2002-03 from 5.8% in previous year.
Many analysts have downgraded Indias 2012-13 GDP growth outlook to 5.5% or less, the slowest since 2000-01, after factoring in a 15% deficiency in monsoon and the worsening eurozone crisis. Citi forecast that a bad monsoon could lower farm output by 3% and drag down the GDP growth to 5.6%.
Even if there is partial recovery in rainfall in coming weeks, an overall deficiency of 15% would imply that 2012-13 will end up as a drought year and will result in a substantially lower sowing not only in the kharif season, but will also adversely influence the rabi crop, said Crisil chief economist DK Joshi.
Crisil expects no growth in agriculture and GDP growth to slow sharply to 5.5% during 2012-13 from 6.5% last year.
More than GDP growth, economists say the deficient monsoon will drive up inflation especially for pulses and cereals.
Although July wholesale price index-based headline inflation came lower at 6.87% in July, the lowest since January 2010, economists warned that food inflation may climb in coming months.
Specifically, deficient rains in 2012 would not only keep inflation high but hurt farm income and spending in the latter part of this fiscal and the next year. This years drought-like situation will affect income of rural labourers and farmers depending on rain and whose harvest was not good, says PK Joshi, South Asia director of International Food Policy Research Institute (IFPRI).
The real picture will show up after six months. Farm income may come down and so will the consumption expenditure, he added.
In order to soften the impact the drought, the government has recently announced a slew of measures including a diesel subsidy scheme, enhancement of seed subsidy, up-scaling of various social sector programmes for boosting fodder production and waiving of import duty on oil cakes.