The number of clinical trials in the country dip to 19 from 500 in 2011 (AP)
Controversies surrounding clinical trials has taken a stranglehold on the number of new drug discoveries happening in India. Only 23 new drugs were approved in India in 2013, which is a eleven-fold drop compared to the figures in 2008, said YK Gupta, professor and head of Department of Pharmacology at AIIMS (All India Institute of Medical Sciences), New Delhi.
"India was considered to global clinical trial hub about three years back. However the number of clinical trials have dropped sharply from 500 in 2011 to 19 in 2013," said Gupta while delivering a keynote address at an international conference organised by the Institute of Pharmacy at Nirma University on Thursday.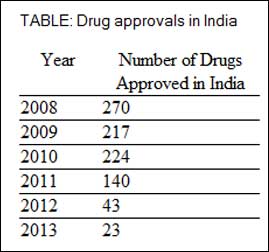 Drug companies were drawn to India for several reasons including a technically competent workforce, patient availability and lows costs. However, the booming clinical trial industry has been pushed to second position by China, he said.
"Clinical research has come to a standstill. The pipeline of new drugs have almost dried-up, because the approval process has become much more stringent and difficult. In 2013 only 23 new drugs were approved, compared to the 270 drugs in 2008," Gupta said adding that fast eroding confidence in clinical research institutes in the last three years have taken a toll.
The laws surrounding clinical trials have also been tightened. Without sharing the number of adverse events/deaths that have occurred due to such trials in the country Gupta said clinical research organisations should understand the changing regulatory scenario where "ethico-regulatory environment" in the country stands changed.
Gupta said 600 registered ethical committees in charge of approving and monitoring the clinical trial process across the country will now be given a formal training. "This has been decided in a meeting held three days ago," Gupta added.
The official from AIIMS also told the gathering how the compensation for people who opt to part of clinical trials has been raised and varies between Rs 4 lakh to Rs 73.60 lakh.
Another speaker at the conference, Dr Sourav Pal, the director of Pune-based National Chemical Laboratory (NCL) observed that Phase-I and Phase-II drug trials were not happening in India, and multinational drug companies were choosing the country only for human trials.