In a bid to accelerate the renewable energy development in the country, the Central Electricity Regulatory Commission (CERC) has released draft regulations on recognition and issuance of renewable energy certificate (REC).
The companies, engaged in electricity generation from renewable energy and does not having any power purchase agreement for the capacity, would alone be qualified to apply and register with the central agency for the issuance of RECs.
There will be two categories of RECssolar certificates and non-solar certificates and will be exclusive and cannot be exchanged. The solar and non-solar certificate will be sold to the respective obligated entities to enable them to meet their renewable purchase obligation (RPO) for solar and non-solar energy.
CERC chairman Pramod Deo told FE, To make solar mission a reality across the country, it is necessary that the states, which do not have abundant solar insolation through solar renewable energy, be able to meet RPO for solar energy. This will also be applicable for other renewable energy sources. CERCs move is crucial at a time when the country has reached to an installed capacity of 14,914 mw (upto July 31) which is about 8.5% of the total capacity. However, in terms of actual generation from the green energy sources the share is estimated to be 3.5% of the total generation.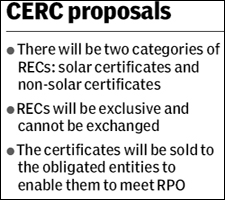 One REC will be issued for each 1 megawatt hour (mwh) of electricity generated from renewable energy plants. Renewable energy generators with RECs can exchange their certificate at a common platform, the power exchange approved by CERC. The price of REC will be as discovered in the power exchange, subject to a forbearance price (ceiling price) to be determined by CERC. According to the draft regulations, the forbearance price will not only ensure optimum incentive for the renewable energy technologies but also save the obligated entities purchasing RECs at unrealistic high price. REC exchange will be connected to the central agency, which is assigned by CERC, to keep record of all the transaction. The REC purchase expense for meeting compliance by distribution licensees would be treated as "pass through" expense in the annual revenue requirement.