The multi-speed recovery of the global economy is prompting a kaleidoscope of policy responses from central banks around the world, muddying the outlook for investors and heightening the risk of market volatility. One size never fits all. Emerging market central banks in particular have deployed an array of measures, from taxing capital inflows to penalising property speculators, in order to limit inflationary risks when the world is awash in liquidity.
What has been striking in the past week, however, has been the pronounced divergence in the rhetoric of three of the biggest central banks from the developed world.
While the Federal Reserve exuded confidence that ultra-loose U.S. monetary policy was still appropriate, European Central Bank President Jean-Claude Trichet took a hard line and said core prices excluding food and energy were not necessarily a good pointer to future headline inflation.
Two days later, Bank of England governor Mervyn King all but contradicted Trichets reasoning. King acknowledged that headline inflation in Britain was heading for 5%but said the BoE had been right not to raise interest rates yet. That was because the increase in inflation had been due to a combination of one-off pressures from import prices, dearer oil and higher indirect taxes, King explained.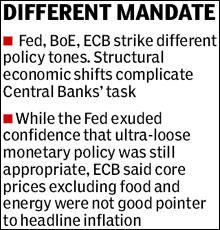 What is going on Have central banks lost their monetary compass After impressive cooperation in 2008 after the collapse of U.S. investment bank Lehman Brothers, have they lost the will to coordinate
For now, central-bank watchers are not too concerned. I wouldnt call it disunity, Peter Westaway, chief European economist for Nomura, said during a visit to Beijing. Its interesting but I dont think its a massively destabilising feature. The Fed is dovish because, with the US jobless rate at 9.4%, the central bank is failing to fulfil part of its dual mandate -- to maximise employment and to keep inflation down. For its part, the ECB is turning hawkish because inflation is above its prescribed target of below, but close to, 2%. I wouldnt say theres any disarray. Theres always a range of views, agreed Michael Dicks, chief economist at Barclays Wealth in London. Theres a more hawkish skew in Europe, Dicks said.
Nonetheless, the longer that emerging markets sustain strong growth, the greater will be the need for Western central banks to re-examine some of their hallowed policy assumptions. If China and India keep growing at near 10% a year, driving up demand for oil, copper and other raw materials, can a spike in the price of such commodities always be brushed off as temporary Speaking in Bologna, Bini Smaghi said prices of goods from Asia and other emerging economies were indeed likely to rise more quickly in future than in the past decade. As a result, domestic prices would have to rise at a slower pace to keep inflation in line with the central banks target. History points to the potential perils in coordinating policy when the world economy is going through profound rebalancing as it is now.