Following the correction in commercial realty rates in metros by 20% to 40%, top builders expect sales to improve by 50% in Q3 and Q4 of 2009-10. In the first two quarters of the fiscal, sales of office space rentals grew 10% to 15%.
To tap the growing opportunity, large builders in various metros are offering ready-to-possess offices, shops and commercial plots, and under-construction offices at 15% to 20% discount.
The correction in commercial real estate rates comes at a time when the general sentiment is buoyant. There is ample cash flow in the market. However, the correction in the office space rentals is 15% lower than that of the residential real estate sector.
According to Harinder Dhillion, vice-president (marketing) of Delhi-based Raheja Builders, New Delhi followed by Gurgaon and Noida have witnessed 15% increase in sales of commercial space since the second quarter of this fiscal. As a result, we are planning to offer price discounts of up to 10% to 15% on office space rentals through our commercial properties based in Gurgaon.
Mumbai-based Royal Palms India has recently launched ready-to-possess offices, shops and commercial plots as well as under-construction offices for corporates at 3,999 per sq ft at Goregaon East, Mumbai. Royal Palms has a total of 4 lakh sq ft of office space/plots. Depending on the need of the buyer, the company can offer offices or buildings ranging from 400 sq ft to 80,000 sq ft.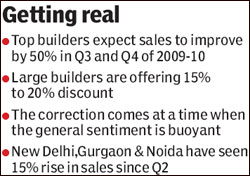 Says Dilawar Nensey, joint MD, Royal Palms India, The land on which these properties are located was acquired over 26 years ago at negligible cost and hence, even at these rates we will make reasonably good profit.
Royal Palms has sold over 1,600 offices so far with top names like Topsgroup, Monarch having their business HQ at Royal Palms.
There are industry experts who believe that rentals do vary according to specific occupier profiles.
Says Pawan Swamy, managing director (markets, West India) of Jones Lang LaSalle Meghraj, Office space rentals in the metros have corrected by up to 40%, which would mean that they are now back to the 2005-06 levels, which is when the economic up-cycle began.
Bangalore-based real estate companies are looking to expand commercial properties in the citys central business district. According to LS Vaidyanathan, executive director, Nitesh Estates, Commercial office segment is another vertical we are looking to expand in the coming years. These are likely to come up predominantly in Bangalore s central business district and in its surrounding areas.