Railways gets budget support from the government and then returns about 30 per cent of that as dividend.
It costs the Railways Rs 2 to earn Re 1 from a passenger. Despite the surprise of a steep increase in fares on Friday afternoon, there is little chance with this sort of earning, it can finance any of the massive projects announced in the Presidents speech to Parliament.
To do any of those, even with foreign funding, Rail Bhawan is instead banking on Pranab Mukherjees assurance that investment in Railways will be increased using innovative financing methods.
The first thing they would like to do as innovation is to scrap an 89-year-old model under which the Railway finances are kept separate from Government of India finances. It was a British plan rolled out in 1924 based on the Acworth Committee report of 1921.
The Railway Budget in July will show if there has been any progress on that score but the messy financial world of Indian Railways cannot get sorted out without it. The Railways for instance, gets budget support from the government and then returns about 30 per cent of that as dividend all in the same year (Interim Budget 2014-15 figures). The shortage in its investment funding, as a result is of Rs 43,000 crore built up in just five years.
It is a confused approach. The Railways should become a government department running a set of public sector enterprise, says Dhirendra Swarup, former expenditure secretary in the finance ministry who piloted 10 Union budgets.
Over the past two decades, the cost of carting a passenger on a train for a kilometre has risen to nearly 53 paise. The Railways earn exactly half of that from her.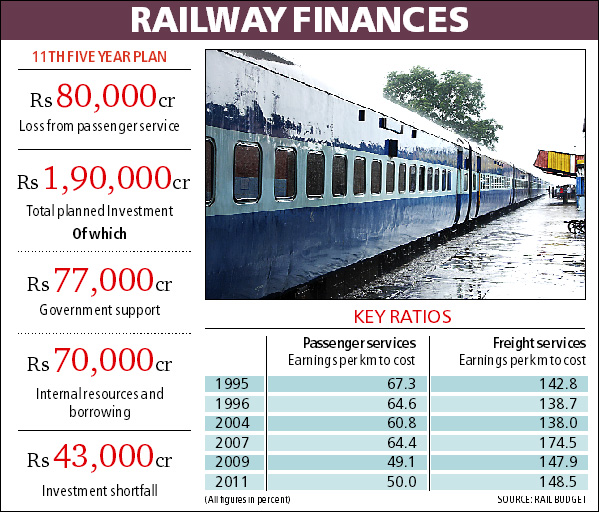 Just look at the table along side. From a high of 67 per cent the Railways earned from each traveller in 1995-96, by 2010-11 the percentage is down to just 50 per cent.
How does Indian Railways make up for that For every crate, it overcharges to make up for that 50 per cent gap. The overcharging stretches from vegetables and milk to coal. The subsidised railway passenger makes the poorest pay for her journey.
Other than tickets for passengers and freight, the only other way the Railways can now raise money is to borrow from the governmentthe gross budgetary support.
Since it is not an enterprise, it can borrow from the public only through a special purpose vehicle. This is the Indian Railway Finance Corporation (IRFC). From the money it borrows, IRFC buys railway coaches and wagons and leases them to the Indian Railways.
The lease payments from Railways earnings are obviously a costly exercise and have reached their limit. By Budget 2013-14, of every rupee spent by the Railways, lease payments accounts for over 11 paise. There is going to be no money for any project, diamond or any other shape, unless this conundrum is solved.
According to Rakesh Mohan, chairman of National Transport Development Committee, the innovative financing choices involve turning the Railways into a quasi sovereign corporation and make each major project run as a subsidiary company of it. For this, the British relic of Separation Convention must go.
The Railway Budget today has come down to about 15 per cent of the national budget, so (a merger) can definitely be done, says Ashok Chawla, chairman of the Competition Commission of India.
Swarup is clear that a radical change is required. If FDI in railways has to happen, the present arrangement must be disbanded. Only corporations can receive such investment helped by a government entity that can leverage low cost sovereign borrowing.
China plans to invest around Rs 5 lakh crore in railways for FY15. The Indian Railways, in FY14, planned to spend just Rs 64,305 crore.