Capping a stunning debut by a political party barely a year old,
Aam Aadmi Party leader
Arvind Kejriwal was sworn-in as
Chief Minister
of Delhi on Saturday.
Thousands cheered as Kejriwal and his six ministers reached the

Ramlila Maidan

around noon after boarding a packed Metro from Kaushambi, the Chief Ministers home in Ghaziabad, for Barakhamba Road in the heart of the Capital.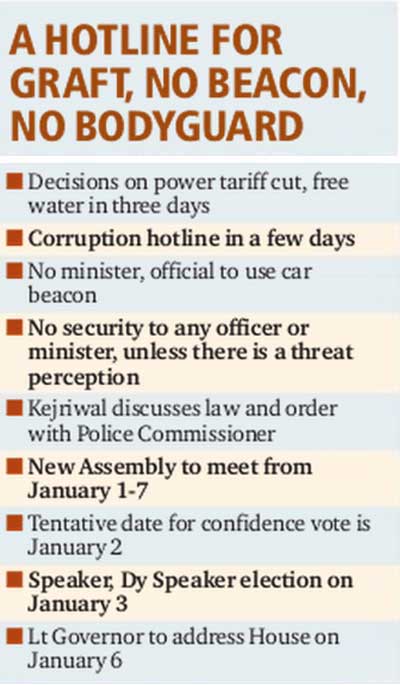 The oath we are taking today is not of Arvind Kejriwal and the other ministers but people of Delhi have taken the oath. The whole fight is not to make Arvind Kejriwal a Chief Minister but it is for a change of governance in Delhi, Kejriwal told the crowd.
An hour after they were administered the oath of office by Lt Governor Najeeb Jung, the AAP government took charge of the Delhi Secretariat and announced the first in a series of promised measures aimed to clean up politics and bring probity in public life.
Signalling the beginning of the end of what the AAP calls the VIP culture, Kejriwal said: No minister or official in Delhi government will use red beacons. Red beacons will be limited only to ambulances, the police and fire tenders. Also, no personal security officer (PSO) will be provided to any official except where there is threat perception.
By the end of the day, a string of announcements had been made measures to tackle corruption, bring in austerity (no bungalows for Kejriwal and his cabinet) and decisions on power tariff cuts and free water within two days.
But probity in public life was top priority. In his speech after the swearing-in ceremony, Kejriwal announced a hotline to tackle corruption.
If someone asks you for a bribe in a public office, dont refuse. As a puzzled crowd stared at him, Kejriwal paused for dramatic effect, and smiled. Unse setting kar lena (strike a deal with them). In two days, we will release a telephone number, where you can call and complain of someone taking a bribe. Together, we will catch them red-handed and action will be taken. That your work is done is my responsibility. Together, you and I will root out corruption.
He also reached out to not only the political class but bureaucrats as well, indicating a thaw in his thought process. In the run-up to the elections, the AAP had repeatedly attacked politicians and bureaucrats on corruption and public service.
People tell me that the bureaucrats in Delhi will not work with me. But let me tell you, of the officials that I have interacted with, some may be corrupt, but a majority are honest people and want to work for the betterment for the country. There is a challenge before them, and if they stand together with us, the people of Delhi, there is nothing that we cannot achieve, Kejriwal said.
He also proffered his hand to BJPs Harsh Vardhan, who has vowed to fight the AAP tooth and nail in the Assembly. I want to thank Dr Harsh Vardhan for coming here. I know that he is a very good man. About the BJP, I cannot say, but I know about him. To everyone in the political spectrum, I want you to consider what is happening. When you are going to bed, give it some thought. If you believe that we are on the path of truth, forget about your political parties and come work with us.
Ahead of the AAP now is the onerous task of delivering their promises, the least of which include the reduction of power by 50 per cent and 700 litres of free water for every household everyday. The AAP will have to combat not only a powerful opposition in the BJP, but balance an already precarious alliance with the Congress they decimated in Delhi.
But Saturday was a day for celebration and the signalling of deadly intent. Kejriwal even warned his own party and debutant ministers as he pledged to deliver a corruption-free government. We were born to get rid of big parties. We should be wary that no other party has to take birth to dismantle us, he said.
He even held the people of Delhi accountable. He administered an oath of his own to the masses who came to watch his swearing in. Mein kasam khaata hoon ki zindagi me, na mein rishwat loonga, na kabhi rishwat doonga (I promise that through my life, I will never take a bribe nor offer one).
A HOTLINE FOR GRAFT, No BEACON, No BODYGUARD
* Decisions on power tariff cut, free water in three days
* Corruption hotline in a few days
* No minister, official to use car beacon
* No security to any officer or minister, unless there is a threat perception
* Kejriwal discusses law and order with Police Commissioner
* New Assembly to meet from January 1-7
* Tentative date for confidence vote is January 2
* Speaker, Dy Speaker election on January 3
* Lt Governor to address House on January 6